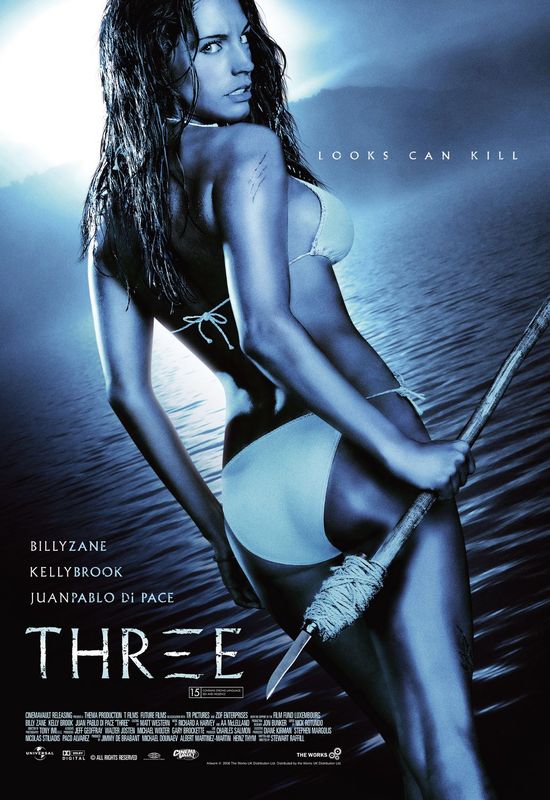 Year: 2005

Duration: 01:31:16
Directed by: Stewart Raffill
Actors:  Billy Zane, Kelly Brook and Juan Pablo Di Pace
Language: English
Country: USA
Also known as: Three – III, Survival Island – Wenn Blicke töten können, Survie, L'isola dei sopravvissuti, Kolme, Jogo pela Sobrevivência, Hármas, Gestrandet im Paradies, A Karib-tenger foglyai, 3, Survival Island
Description: Newlyweds Jack and Jennifer decide to spend their honeymoon on a luxury yacht. A few days later, the ship is wrecked on the coast of a strange island. Owners of the boat and a sailor called Manuel could save themselves. They are in complete isolation from the mainland.

Adapted to life in extreme environments, Manuel takes care of pampered rich men, getting them food and water. Impressionable Jennifer  couldn't resist the charm of the handsome Manuel, and soon breaks out between them irresistible passion.
Jealousy makes Jack a monster, rage and violence that knows no boundaries. Men start a real war for the possession of a beautiful woman, and who knows who is destined to get off the Lost island …
Review: The plot is quite interesting – in the monotonous life of a wealthy couple stepped a young sailor, who was terribly unhappy with their well-being, well, not without a hidden sympathy for Jennifer. Jack, of course, did not like it, and between the men turned the real war, the center of which the notorious doll that she really does not know who to flop. Final, however, puts everything in its place, and only after viewing it becomes clear that the movie is not all that simple. But watch for the second time will be a completely uninteresting.
Most pleased with Billy Zane as the villain. In general, he is quite bright actor, and then on his villainous image, even pleasant to watch. Particularly amusing is that Jack will always be in a rage, even when it would seem, survivors must work together and get off the uninhabited land. But the creators correctly calculated that if one of the survivors will modelka Kelly Brook, characters always find a reason to fight, not to be bored all day to fish, and at night stoke the fire. Get quite interesting and even unpredictable, but the movie only once.
Entertainment – 4
Staging – 3
Actors – 4
Scenario – 4
Expected – surprisingly good
My word – an interesting thriller about a love triangle. True, the name "survival sex" has nothing to do with it, "three" – far more logical.
Screenshots:
Download: