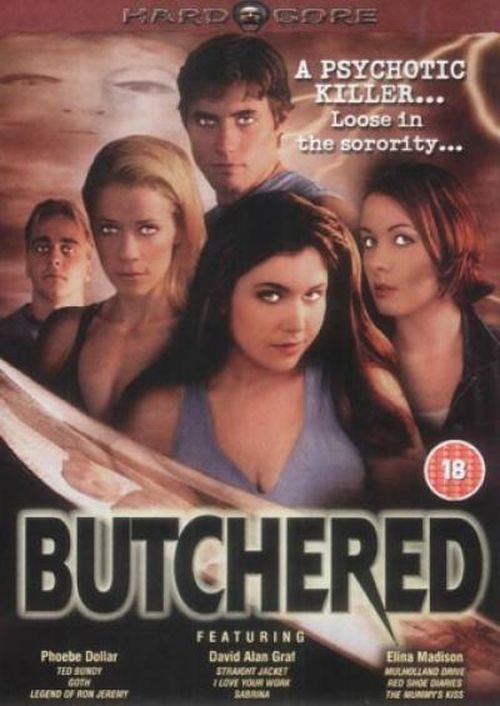 Year: 2003
Duration: 01:16:07
Directed by: Joe Castro
Actors: Susan Smythe, Juliet Bradford, Phoebe Dollar
Language: English
Country: USA
Also known as: Bludgeon (USA alternative title) | Butchered (USA alternative title)
Description: Two girls want to be accepted in a popular sorority. Their final test is to spend a night in an abandoned house. The leaders of the sorority have prepared the space to work as a haunted house, but things start to unveil in an unexpected way. A vagrant that occupies the house is unhappy with the invasion of her space and she will reveal to be more than she seems at first sight.
Review:
The movie «The Hazing» is what can be a real trash! Namely – a hard, uncompromising, and rather brutal. What this here accurately enough! Throughout the film, we are witnessing the bloody bacchanalia in the best traditions of the masterpieces of the Studio «Troma». By the way, the film is the brainchild of company «Cinemacabre», also making «thrash» things.
The flick "Butchered" is fairly cheap, and sometimes even the impression that it was filmed on video camera – however, he should be it is good for him. I want to praise the creators of the image of ugly women maniacs, the inmates of the abandoned house. It turned out really great! We show a closeup of a physiological features of her body (and in the truest sense of the word!), she is dressed in black rags, walking with a knife and in a ghastly white mask.
However, murder here are not only this cool tool. Here people pull their eyes, beating them to death, cut (and cut off) their limbs, pulling out the insides. And why do you want is the same trash! Actors do play a little-known, you didn't know that, maybe even for the better. In the movie there are a few scenes of nudity, in the best traditions of the genre. It's only a plus, luckily, there is quite a lot, but, to the brilliant icons os slashers «Friday the 13th», Marcus Nispela, of course, does not hold.
The flick filmed by director Joe Castro (Summer of Massacre and Manical)
The film "Butchered" is strongly not recommended to pregnant women and children due to the abundance of scenes of violence. Genre Thrash» already, of course, survived, but it is very good that from time to time you see these little masterpieces as «The Hazing»!
 Screenshots:
Download: