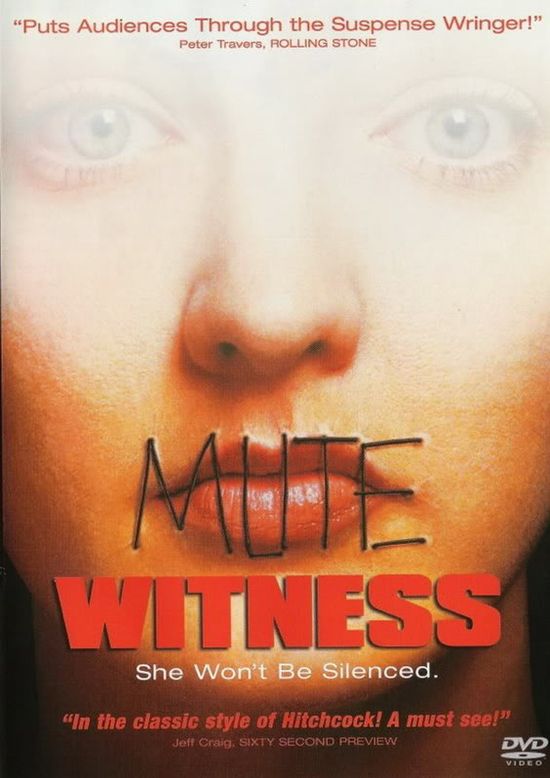 Year: 1994
Duration: 01:32:32
Directed by: Anthony Waller
Actors: Marina Zudina, Fay Ripley, Evan Richards, Alec Guinness
Language: English
Country: Russia | UK | Germany
Also known as: Não Falarás! (Portugal)
Description: Billy Hughes is a mute makeup artist that went to Russia to make a slasher film. She accidentally is locked in the studio overnight and discovers that it is being used to make pornographic films.
But sex turns into murder. The movie being shot is a snuff film…
She escapes the men doing the shooting  but the police is not convinced by her teste and must first escape capture at that time, then keep from being killed before convincing authorities of what she's seen. Plot twists galore follow as Billy tries to stay alive.
 "Mute young girl named Billy works in Moscow as an assistant director in Hollywood , relieving the vast Moscow by his new film . Once she becomes a witness filming a snuff film , so that it begins the hunt for the part of criminals , even a silent witness is still a witness.
The film " Silent Witness ", filmed in the now distant 1994 English director Anthony Waller , is a very interesting example of quality kinokoproduktsii post-Soviet Russia , the cinema which was then in a state of constant creative and financial crisis , and the UK. In the year of the film's release he was not paid off at all, despite the relatively small budget , which now looks very strange, considering the quality of the film , it is able to scare and amaze the spectator even now, for a little-known director in fact Anthony Waller, later put on black horror comedy " An American Werewolf in Paris ", in " Dumb witness" masterfully demonstrated mastery of the art of horror and discharge voltage , while not being able to move a thin moral face in dealing with such a terrible topics like snuff , successful and full-bodied interest , without undue distortions movies which is extremely small. However, not only Hitchcock horror movie , this one is rich , because it was a place and a typical crime thriller with elements of the grotesque style of being " dashing 90 " because some sense of imbalance in the film genres present.
The undoubted advantage of this painting has become a truly excellent and convincing acting and , primarily , who performed the role of Billy Marina Zudina which showed aerobatics acting in the film , because in fact her acting technique reduced the game looks, emotion in his eyes. Also performed their roles perfectly Oleg Jankowski , Alec Guinness and Fay Ripley.
Egon operator Verdin created in the film is incredibly dark and tense atmosphere , thus removing a realistic picture , but not " chernushny " colors.
Soundtrack by composer Wilbert Hirsch perfectly fits into the structure of the tape , sounding anxious and with a huge amount of suspense in the most impressive and the key scenes of the movie .
All fans of horror films and thrillers , I recommend this little-known today , but it is a worthy and heavy sediment leaving the film , and I hope you will not be disappointed ."
Screenshots:
Download: