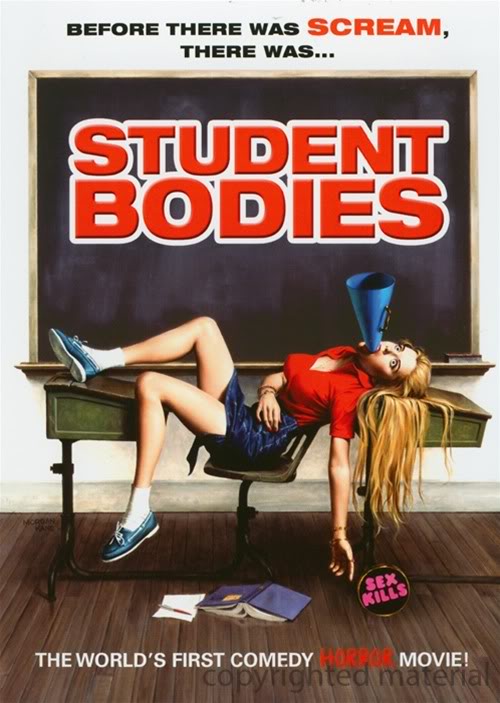 Year: 1981
Duration: 01:39:15
Directed by: Mickey Rose, Michael Ritchie (uncredited)
Actors: Kristen Riter, Matthew Goldsby, Jerry Belson
Language: English
Country: USA
Also known as: 13 Asesinatos y medio, Ruumis joka luokassa, 13 Morts 1/2,Två lik i varje klass, Was macht der Tote auf der Wäscheleine?
Description: Fuck Scary Movie and all its endlessly shitty sequels. If you want to see a real spoof on horror that's done the RIGHT way, look no further. This one doesn't have to resort to aping scenes from other (unrelated) movies in order to be funny, this one stands head and shoulders above all these lame ass "parodies" coming to theaters these days. If you like this one, another good recommendation is Pandemonium, although it's not quite as funny as this one.
Review: Student Bodies – one of the first slasher parodies . According to legend, was filmed during the writers' strike … What the member is not clear , but nonetheless. Mentioned in this story of a girl parody Toby whose friends are killed one by one. Why ? Because they had sex. Here kagbe derided slasher stereotypes by which creators defended from the attacks of opponents of this case. That is, if the parent Committee of America would want them ( the creators ) to fuck , they could easily hide behind some high morals " hellish carnage electric drill 8 " supposedly killed there for a reason , and with meaning. Shlyuhovatyh teen drinking and always kill the first that correctly ( but hardly acts ) . And it turns out that morality is , but does not work , and therefore tries useless. However (see the date ) slasher while prospered. On this and tell wreaking great motion picture .
Screenshots:
Download: