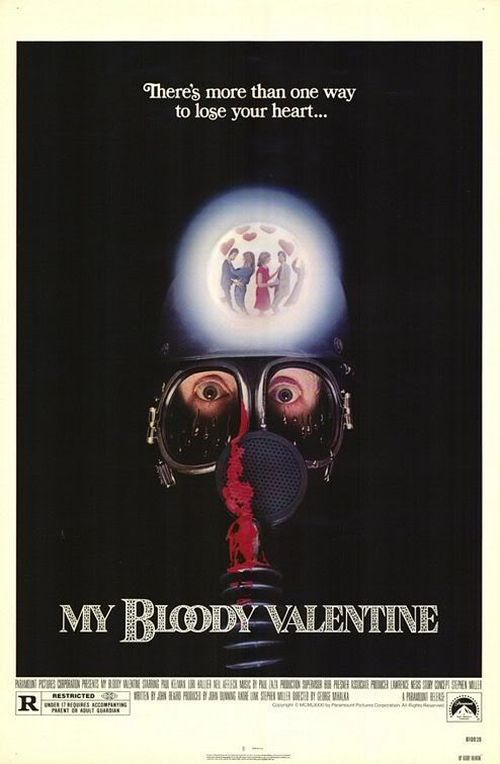 Year: 1981
Duration: 01:33:01
Directed by: George Mihalka
Actors: Paul Kelman, Lori Hallier, Neil Affleck
Language: English
Country: Canada
Also known as: Blutiger Valentinstag, Aniversario de Sangre, Carnaval Sangrento, Dan krvavega Valentina, Dia dos Namorados Macabro, Il giorno di San Valentino, Meurtres à la St-Valentin, Moja krwawa walentynka, San Valentín sangriento, The Secret, Verinen Valentine
Description: 20 years ago in the town of Valentine's Bluff, Valentine's Day turned intoa night of bloodshed. 20 years later, the town is preparing to celebrate its first Valentine's Day since the night of slaughter; but the town do not heed the killer's past-warning. This Valentine's night, the candy isn't the only thing that's going to be blood red …
Review: Valentine's Day – the day of lovers. On this day, you want to give love to everyone around her, and the other half. Want to enjoy and have fun. Being close to a person close to you. And certainly do not want to die. So, "My Bloody Valentine".
The film is a continuation of the cause, as the introduction of slasher genre to the masses. Following the "Halloween" and "Friday the 13th", he went to world cinema as a classic slasher film genre. Strange that about him too often forgotten, but in vain. Enough in what he gives to his fellow, but something even greater. But here is a string of sequels and not followed. Incidentally noted, this is one of the first slasher films with a fair amount of comedy. A little later, his support in the "Nightmare on Elm Street." And if Freddie communicates directly with the victims, the "Harry Warner" by Valentine. And this is his style. And the picture itself, despite the tragedy of the situation is enough fun and atmospheric. That only is the best ending, but damn-insane maniac laughter adds even more bling.
Actors are selected rather nice and charismatic. Each character has its own character and world view that is rare for a slasher. Here, however, it is still more to the male roles, women also taken a back seat and almost none of them are not particularly stand out from the crowd. Of all the characters I most remembered and loved character Keith Knight. Charismatic, funny, ever throw out something funny. I felt sorry for him more than anyone.
The plot does not possess originality, but it is not required. The main thing here – this is the style of narration, the camera work and lighting correctly matched. Let the majority of the killings going on behind the scenes, but it's still 1981, because personally I did not expect that the blood will flow a river and so on. I was waiting for a beautiful, something frightening and interesting picture with a maniac and a bunch of innocent victims. And my expectations were met.
Screenshots:
Download: