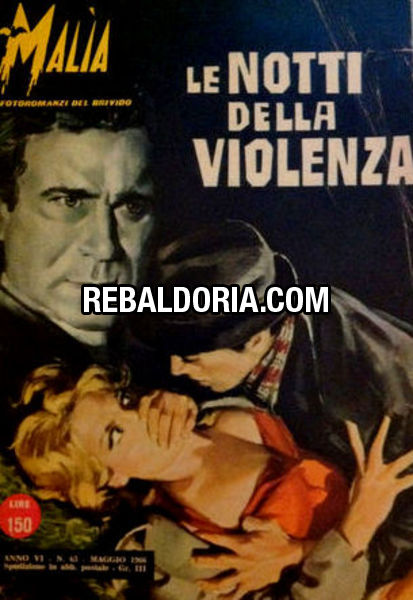 Year: 1965
Duration: 01:17:27
Directed by: Roberto Mauri
Actors: Alberto Lupo, Marilù Tolo, Lisa Gastoni
Language:  Italian | English Subtitles

Country:  Italy | USA
Also known as: Callgirls 66, O anthropos tis Hiroshima, Der Killer der sündigen Mädchen, Night of Violence
Description: A masked man is hunting down and murdering women throughout the city. The police set out to capture him before he can kill again.
IMDB User Review:
Roman nights – a masked killer is stalking and killing all the women he meets. The main victims are, of course, prostitutes.
"Le notti della violenza" may not be a groundbreaking giallo but it's atmospheric, it features, as it's to be expected, lots of pretty women (among them Marilu Tolo, Lisa Gastoni, Helene Chanel etc..) and the cameras are sensitive to feminine beauty (but as we are in 1965 not much can be shown). In short, "Le notti della violenza", in spite of being an early giallo, displays all the characteristics of the giallo genre – women being pursued, killed, slapped around, asking for protection and crying like broken dolls when mistreated. But it's not really a misogynistic film – it shows, it relishes and (in a way) it denounces (!).
"Night of Violence" is what one could call, a spontaneous giallo, this means, gialli that were made with few resources, but got the most out of them.
"Le notti della violenza" can't be put in the same league with, for instance, Mario Bava's classic "Blood and Black Lace" (1963) or Bazzoni's psychological giallo "La donna del lago" (1965), but it's still interesting if you like films for entertainment: As I said before, it's atmospheric (the silhouette of a woman seen through a window in the night, a lonely meadow, bushes, pines trees, someone stalking..) and it's also a perfect time capsule – the women, their hairdos, the music, the parties etc..
The plot mixes a deranged killer, a prostitution and drug ring and there are even hints about the atomic age! But no need to be afraid! In spite of all, the story is simple enough.
Screenshots:
Download: