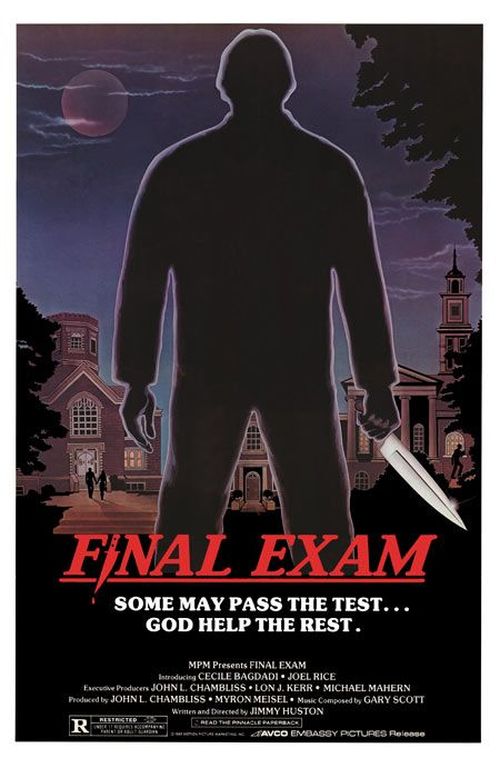 Year: 1981
Duration: 01:29:56
Directed by: Jimmy Huston
Actors:  Cecile Bagdadi, Joel S. Rice, Ralph Brown
Language: English
Country: USA
Also known as: Examen final
Description: In College, North Carolina a few students are going to take exams in the middle of the semester. But when on campus appears serial killer, each exam for students can be the last…
Review: I don't like to write reviews, but this injustice against this slasher made me.
To begin with, that is not a very bad horror film 80-H.
1) the First 50 minutes, this is how the Director is required to viewers (and I am absolutely sure of that), to hate all the characters(almost) and wish them a speedy death.
2) In the movie really beautiful music (Gary Scott). The Director is clearly a big fan of giallo, and it is not only heard, but also seen in some places(the scene of the murder in drapery opposite paintings)
3)In the film were quite good operator solutions (Luggage, going down with a tray of the main character in the kitchen, which held its first fight with a maniac, for example).
4) the Final scene in the Church, as the last refuge, quite symbolic. And even the Sheriff arrived just in time : the time can't save the unfortunate victim, dying of their own weapons. The Church itself saves the girl: the rotten floor, as «rotten» for most students of religion, saves a miserable life.
5) Classical hand maniac on the victim in the end of the movie and the rage with which the most diligent and College girl finishes his knife, gives another reading of the name of the movie «Final Exam». This girl flunked a maniac, but not flunked the exam life.
Screenshots:
Download: