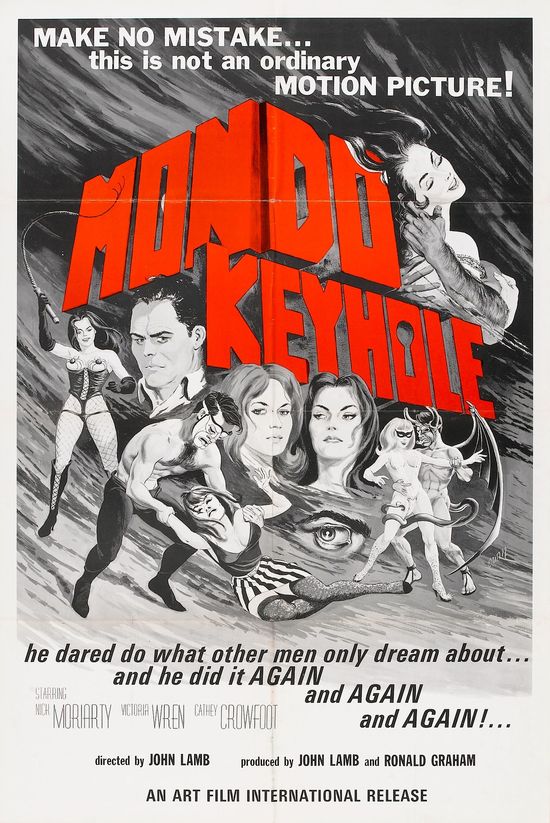 Year: 1966
Duration: 01:17:39
Directed by: Jack Hill, John Lamb
Actors: Nick Moriarty, Adele Rein, Cathy Crowfoot
Language: English
Country: USA
Also known as: The Worst Crime of Them All
Description: A delirious early effort from exploitation master Jack Hill (of "Spider Baby" and "Coffy" fame). An absolute must for 60s exploitation fans. This one has got it all: copious nudity, beautiful location photography, violence, drugs, bondage and plenty of pure, good old fashioned insanity.
Howard is a rapist.  The film begins with him fleeing from a rape and continues from rape to rape (he even leaves a lunch with his suffering heroin addict wife to rape a woman he sees passing by on the street) until the inevitable revenge climax.  Cast is made up of many people you've never seen, but features director Jack Hill, Cathy Crowfoot (The Girl with Hungry Eyes) as a karate dominatrix, and Nick Moriarty as the all-star rapist (he was a smut peddler in real life who thoroughly enjoyed ripping off his clientele with shoddy product, and his place of business is on display in the film).
This isn't your average 60s sleaze/sex film ("Make no mistake… this is not an ordinary motion picture!"), nor is it a mondo film.  There are many memorable surreal scenes and director Jack Hill (Spider Baby, Switchblade Sisters, Coffy) puts more effort into this than the usual skinflick.  Hill seems quite embarrassed about this movie on the DVD commentary (maybe the scene of him getting whipped has something to do with it) and his embarrassment alone is good enough reason to give this a look (almost a quarter of the cast listed on imdb as "rape victim" is another), but it really is some truly bizarre 60s sleaze that deserves a bigger audience.
There are 2 versions of this film, the original adults only film with tits (which must have been too weird for men looking for a skinflick) which was released on DVD, and this version, a second edit shorn of tits, but even weirder and in my opinion better.  There are a number of differences between this and the DVD version.  First you get extra psychobabble scenes after the rapes:
Review: One of the strangest and most skillfully made films about maniacs in the history of cinema. Mondo Keyhole – the story of a man who spent casting, close to pornography. However, this is nothing strange – the film's director, Jack Hill (by the way, the one who directed "Coffey," "Foxy Brown" and "Girls with a switchblade") perfectly recreated the free atmosphere of the late 60s. Otvyaznye and crazy parties, parties, liberated women – Jack Hill with his ragged assembly and almost documentary fixation event was very, very accurate.
The nuance of the film lies in the fact that the main character is a serial killer hunts down and violence coming to the casting of women. So, it is stylistically can be attributed to the slasher.
Jack Hill is very risky, showing crime too colorful. That only is a close-up of a toad that monitors another crime. Oh, and the ending made more than gracefully – do not forget that was only 1966.
I can only say that the outcome will be no less surprising, original and funny than "Death Proof" Quentin Tarantino. In those years, I am sure, the film shocked as artistic solutions and plot moves.
The result: it's art-house. Movie fans may like slasher, as well as Russ Meyer movie. Jack Hill is a wonderful director and staged many of his findings have pleased me. However, because of its experimental, film, much to my regret, to nedotyagivaet masterpiece.
Screenshots:
Download: