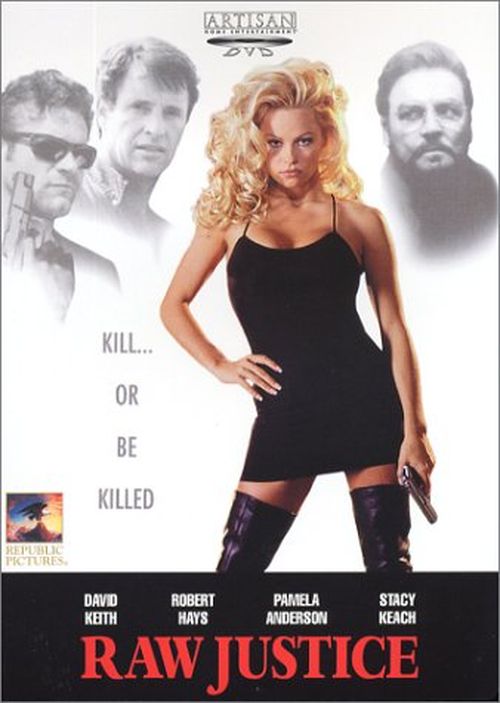 Year: 1994
Duration: 01:32:31
Directed by: David A. Prior
Actors: David Keith, Robert Hays, Pamela Anderson
Language: English
Country: USA
Also known as: Strip girl la ravageuse, Good Cop Bad Cop, Desejo Fatal, Tripla Infernal, Corrupção E Morte
Description of Raw Justice movie: To investigate the murder of the mayor's daughter secretly hires ex-cop Mike. Quest leads him to the office of mayor. But when Mike discovered almost criminal, it starts chasing police.
Having survived a hail of bullets, Mike and his friends Mitch and Sayre finish with a sophisticated criminal.
Lots of nakedness and cheezy action!  You could but why would you ask for more?
Great review from IMDB individual pretty a lot sums it up:
Enjoyable movie, if you turn your brain down for a half and hour.
In this erotic thriller filled with sex and action, Mayor Stiles'  daughter, Donna, is brutally murdered following a miserable  date with  Mitch  (Robert Hayes), who becomes the prime suspect and is arrested.  When  someone mysteriously posts his $1,000,000   bail, Mitch is released.  That causes Stiles to hire scruffy, ex-cop, bounty hunter, Mace (David Kieth), to follow him. Mace soon learns  that someone is trying to kill Mitch, as well as a cheap hooker, Sarah  (Pamela Anderson.)  While protecting Mitch, Mace must figure out who is trying to kill him.
Screenshots:
Download: