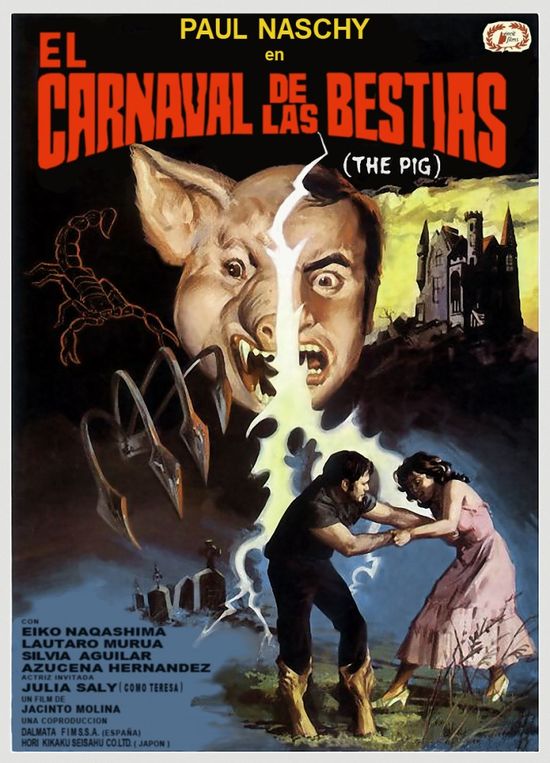 Year: 1980
Duration: 01:31:02
Directed by: Paul Naschy (as Jacinto Molina Alvarez)
Actors: Paul Naschy, Eiko Nagashima, Lautaro Murúa
Language: Spanish and Japanese | English subtitles
Country: Spain | Japan
Also known as: El carnaval de las bestias (original title), Human Beasts, The Beasts' Carnival

Description: Bruno is in love with Meiko. But she is part of a criminal organization who needs him to steal some diamonds.
During the robbery Bruno betrays them only to get shot in the escape and loose his memory.
Rescued by a doctor whose two beautiful daughters are intended on getting him to bed.
But those are the least weird of the house guests as there is a all bunch of weirdos going around, including a black maid with a taste for sadomasochism and the ghost of the previous Lady of the house.
And there is also a lot of people getting killed at the hands of a gloved criminal!
The film's protagonist – a hired killer Bruno, played by the Director himself. After successfully poweroutage case he lies to his Japanese associates, grabs the prey and starts running. Him organize the hunt, but no one can win a professional killer. All wounded, he gets into the house to some doctor. Giving him a warm welcome and leave to live in a huge Villa. Bruno falls in love with one of the daughters of the doctor, but he didn't know what secrets stores this strange family…
Screenshots
Download