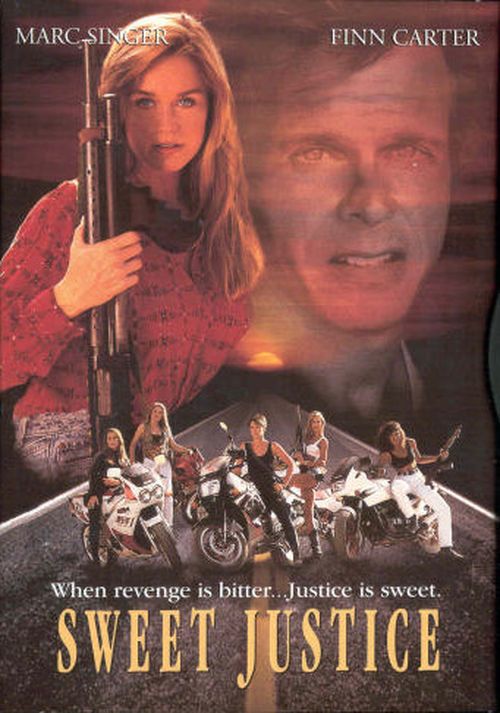 Year: 1992
Duration: 01:30:34
Directed by: Alain Paris, Allen Plone
Actors: Finn Carter, Frank Gorshin, Marc Singer
Language: English
Country: USA
Also known as: Action justice: Accion de justicia, Sweet justice – 5 donne per una vendetta, Killer Instincts
Description: 
There's only one cinematic archetype I enjoy more then a hot babe with a gun, and that's a bunch of babes with guns. Finn Carter assembles a team of former female soldiers to avenge the death of her sister.  Frank Gorshin is the chief goon, and Marc Singer is her ex boyfriend, who is now town sheriff.  Mickey Rooney is also on hand to collect a paycheck, and Kathleen Kimmont is one of the gung ho gals.
As expected in this type of outing, the thugs fight and shoot like weenies, and the girls kick ass. The action culminates as the baddies take refuge in a wild west town.  The all girl posse rides into town on choppers to wipe them out.
Sweet Justice is the kind of movie someone like Cirio Santiago would have cranked out in the 70's with, no doubt, a better handle on the target audience for this type of thing.  Sweet Justice takes itself a little too seriously, with too much emphasis on feminism and not enough on exploitation.  There is, however, an obligatory hot tub scene.
Still, as action-exploit movies go, I'd rate Sweet Justice close to average.  It's worth a look for cheesy entertainment.  The file is sourced from a out of circulation DVD.
Screenshots:
Download: