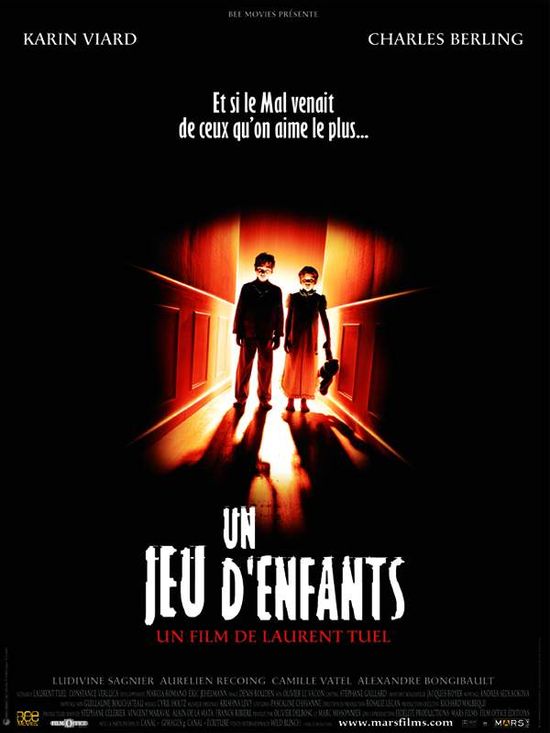 Year: 2001
Duration: 01:17:16
Directed by:  Laurent Tuel
Actors: Karin Viard, Charles Berling, Ludivine Sagnier
Language: French (English Subs)
Country: France
Also known as: Child's Game ,Juego de niños, A Children's Game, Jogos Sinistros, Kinder der Furcht
Description: A visit from an elderly couple, brother and sister, in a large Paris apartment where they lived as a child turns into a nightmare for the new owners of apartments.
Parents can not explain what is happening to their children, who seemed to have broken loose and play violent and terrifying games. The father slowly losing his mind, and his mother was horrified to realize that their children possessed by an evil spirit.
Review: European horror films are always very different from the bands of this genre, filmed in Hollywood. French horror in general should be seen as a purely independent offshoot of the genre, for such tapes, shot in France, you can find out right away.
Film Laurent Tyuel "Child's Play" is a typical representative of the French horror film, with all its elements of violence hard, realistic performances and great game actors. Although the plot of the movie Laurent Tyuel little different from most of the stories about evil children, the director revealed this topic from an unusual angle, filling the film elements of drama and detective story that will surely become one of the pluses of the picture.
In the picture in the main roles are very well-known French actors: Karine Villard, Ludivine Seigner and Charles Berling. The high level of acting will please the viewer when viewing.
Directing the film is very flat, located within the genre. Suspense skillfully injected and dynamic work through the operator Denis Rudena, and because of its unusual and eerie soundtrack Krishna Levy.
I recommend the movie "Children's Games" to all fans of European horror.
Screenshots:
Download: