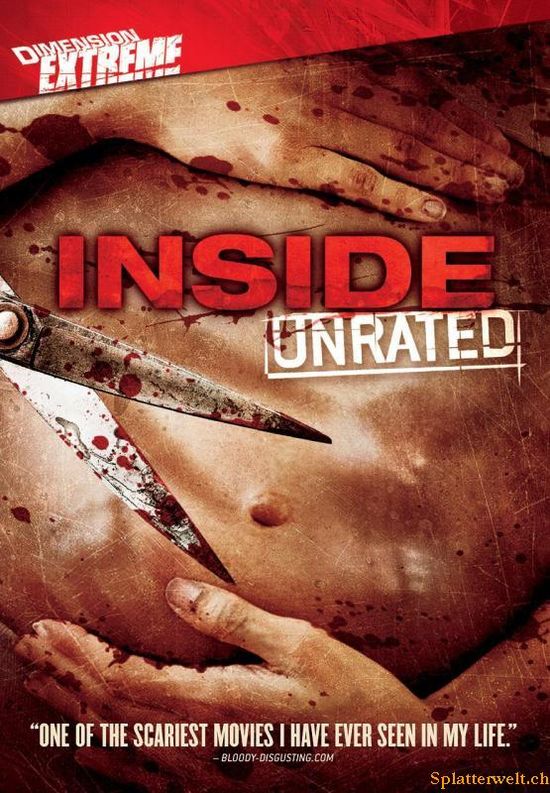 Year: 2007

Duration: 01:15:31
Directed by:  Alexandre Bustillo, Julien Maury
Actors: Béatrice Dalle, Alysson Paradis and Nathalie Roussel
Language: French (English Subtitles)

Country: France

Also known as: À l'intérieur; Instinto siniestro; Yashiki-onna; Inside: La venganza
Description: By becoming the culprit in a car accident, Sarah lost her husband. Now her whole life is devoted to her child, to whom she would give birth soon. However, each time falling asleep, she plunges into a nightmare that will soon become a reality for her, but far more terrible …
Review: "Inside" is a rare case where the art-house genre and grassroots find each other. The film Byustillo / Mori typical dismemberment harmoniously interwoven with powerful suspense, and the rivers of ketchup – with spectacular camera work (the scene where the heroine Paradis lights a cigarette – a masterpiece).
The plot of the film is simple, the number of characters is limited, but that does not stop their breath and round eyes follow what is happening on the screen.
Acting leaves a pleasant impression. All details of the film are accurate to immerse the viewer in the most bloody atmosphere of hopelessness: music, visuals, dialogue at the beginning, "silent" scenes … In fact, the first 15 minutes given to the audience merged with backgrounds picture. After that, click on the Pause is impossible …
Yes, this movie breaks all conceivable slasher canon, except dismemberment, but this is justified by the concept of the film. "À l'intérieur" – beautiful and terrible mutant, Dorian Gray, how it could have drawn Giger. Blood, limbs pierced carved babies and even tracheotomy with interesting alternate carrier and mounting chips, airtight psychological background and serious drama.
Screenshots:
Download: