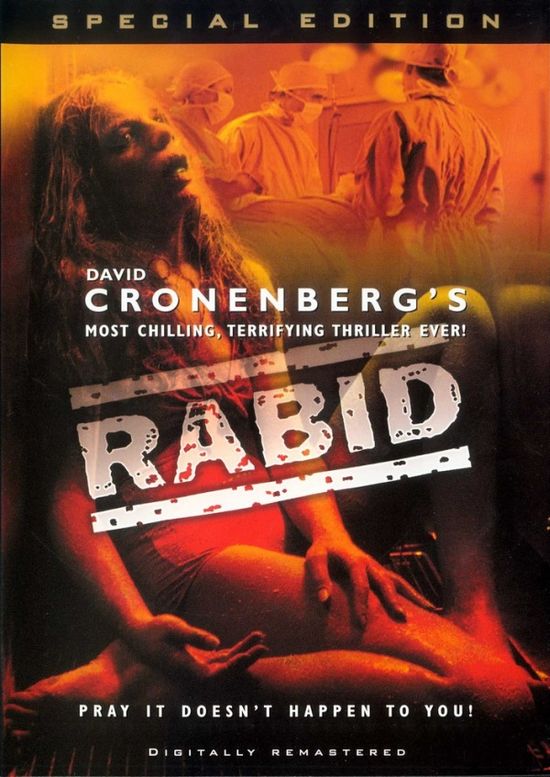 Year: 1977
Duration: 01:26:50
Directed by: David Cronenberg
Actors: Marilyn Chambers, Frank Moore, Joe Silver
Language: English
Country: Canada
Also known as: Rabia, Rage, Überfall der teuflischen Bestien, Blodig galskab, Coma Profundo, Enraivecida na Fúria do Sexo, I lyssasmeni, Kuduz, Lyssasmenes sta nyhia tou tromou, Rabid, Rabid – Bete, dass es nicht Dir passiert, Rabid – Der brüllende Tod, Rabid, sete di sangue, Sta nyhia tou tromou, Verenimijät, Veszett, Wscieklizna, Wscieklosc
Description: After the accident, the girl is dying, conventional medicine can not save her. Then the doctors decided to try new techniques and products. As a result, she is on the mend. It seems that everything is fine, but the preparations demonstrated terrible side effect: under the girl's arm appeared a hole , from time to time gets out the sting. With this sting she drinks  blood of her victims, as well as in times of hunger, she loses the control over herself. After some time, the victims of unusual vampire become rabid.
Review: "Rabid" – pretty cheap, but not least, frightening horror film of the great Canadian filmmaker David Cronenberg. This smiling old man started making movies when my parents still go to kindergarten, and over the next three decades Cronenberg steadily frightened audience, releasing one after the other movies that are worthy representatives of the "scary movie."
In his film "furious" Cronenberg (Eastern Promises) affected aspect of medical science. On it always was, is and will be a lot of controversy. Once, at the time of Galen, dissection of corpses was considered not only blasphemous, it was beyond the comprehension of the human mind. Why delve into the dead man? In our world, most konservatistski minded people. Nevertheless, science must move forward. And often this movement gives it no ordinary physician, but the man is so fascinated with his work, that he was considered a bit of "that". Plus, there are "guys", which on the outside looks like a decent, but what they do in their laboratories – is not clear. Why am I going with all this? And besides that, in the movie "Rabid" couple who love to ride (they itch to ride without helmets) with no luck. Not only that, they had an accident, so also got to one of these doctors. And if the guy got off easy, then his girlfriend much less fortunate. But the good doctor uncle had saved her from death. The problem, though, was the fact that he saved her some advanced techniques that give a side effect. Beauty has become something of a vampire. She only saw the blood very unusual way – armpit. Here's a twist! What came out of it, find out when the movie look.
Overall, the movie Rabid is pretty good, but clearly that is cleared once in haste and without due diligence, which are truly "great horror". In any case, I recommend it for viewing, if only to pass the evening in the company of fear.
Screenshots:
Download: