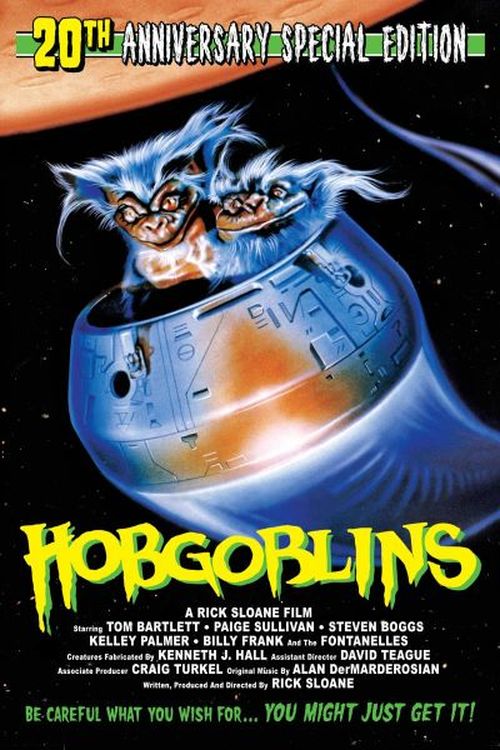 Year: 1988
Duration: 01:28:20
Directed by: Rick Sloane
Actors: Tom Bartlett, Paige Sullivan, Steven Boggs
Language: English
Country: USA
Also known as: Hobgoblins – Seres de fantasía,  La Stirpe da Estirpare
Description: There was a time when cute little monsters like gremlins made a success and some followers made little monsters movies ….hobgoblins was one of them, pray there's not gonna be something like that again..
Review: Looking ahead, we want to point out a feature film, which is representative of the direction of trash created not for the benefit of certain cultural cinematic manifesto , but only for fun candid spectator , watching extremely cheap and absurd horror with a share of black humor. Therefore, the broad masses of the movie would not like that quite logically justified, but avid fans of independent B-movie is, what to look for .
Specificity lies in the horror film created by director and screenwriter stories simultaneously Rick Sloan (Rick Sloane) about mysterious creatures – hobgoblins for the Russian-speaking audience more comfortable sounding like brownies. Screen story begins with drawstrings , tells of a spacious warehouse studio , which is already more than a dozen years old watchman guards . He has all the time "disappear" companions, but the old man knows what reason in living brownies, hidden away behind a massive door to the far wing space , much better not to go if you want to be safe and sound . Once, during an attack on a warehouse over , monsters break free , and only another young colleague guard can stop them . As it is quite clear on the given zhutiki about some small crafty creatures , they start to misbehave in everywhere harassing people.
With a similar story line in the genre was created not one movie or even line franchise episodes , for example , the most well-known and more spectacular is the " Critters » («The Critters») and " Gremlins » («Gremlins»). However, current " Hobgoblins » («Hobgoblins») are not significantly different budget, as mentioned at the beginning, so they can not boast of decent work puppeteers , often demonstrating furry puppet monsters whose only movable toothed jaw. However, the screenplay being prescribed less dangerous attacks – bite or tear how telepathic abilities . In fact, they embody the secret human desire and passion to eventually bring the poor man to death before dawn and get yourself body.
Generally, in this film there is no special bloodthirstiness occurring component is concentrated in the comedy , but the humor peculiar belonging to such trash zhutiki where there is no parody or ridicule something social . It is full of superficial absurdity, multiple blunders and follies in the unpretentious equivalent, designed to relax the viewer's brain. For example, when one of the characters in the movie , sitting in the car trying to push off a cliff , he goes and sympathetically interested , and if it does not need help ; covers a grenade character , followed inevitably exploded and burned , after some time again declared in the frame with several rolls of bandages on his hands and only , or after an attack creatures barely otbivshiesya guys … suddenly continue their gatherings , as if nothing had happened , as if not faced with biting monsters! In general , delirium often exploited .
But nonetheless , great staging lacks brightness and rhythm. Humor like there (albeit stupid frankly do not hesitate to confirm this ), but it rarely is labeled . Race for the shaggy – household pranksters sometimes losing momentum in the story long enough to wedge the "unnecessary" sketches in the form of a song from the scene , some playful battle on garden tools , funny calls to " phone sex " , making communication a horror movie with a black humor and comedy is broken , leaving one in something .
Final score of the film as original works of art is quite low , the movie is intended for audiences of trash , preferably prefer opus on small creatures plaguing the protagonists. And even here in the narrow direction frankly cheap productions , tape unable to compete for supremacy among brethren. But in any case , for those interested collectors absurdist film category B with a bias in a playful horror – a full-fledged representative of the genre on the face. I just belong to this number of people on the other side of the screen , so was kinda glad to browse and you just introduced me to films.
Screenshots:
Download: