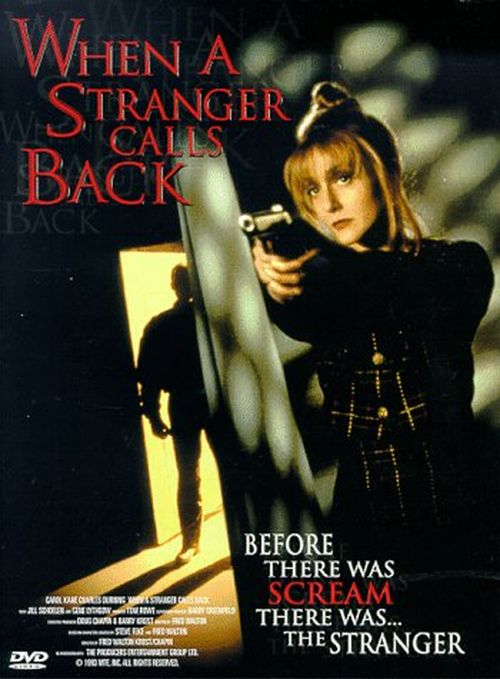 Year: 1993
Duration: 1:33:39
Directed by: Fred Walton
Actors: Carol Kane, Charles Durning, Jill Schoelen
Language: English Commentary only(No only movie audio so to speak)
Country: USA
Also known as: Um Estranho à Minha Porta, W potrzasku, When a Stranger Calls 2
Description: Julia (Carol Kane from Mafu Cage) is sitting with two young children while their parents go to a visit. Night at the door of the house appeared a stranger and asked to let him call someone, as he broke the car. Julia agrees to help him and calls herself. But to the specified phone number no one answers. Soon the stranger becomes even more persistent in requests to come in and to call himself. Julia denies man. After some time, the girl begins to seem that there is a stranger in the house …
Review: It has been nearly fourteen years. Enormous period in which the characters of the original picture had to grow up, and some seriously aging. Changed and the world: fashion, technology, city … Everything was different. Push-button phones have become, without the disc, which should rotate. This is another important point for the sequel of the film "When a Stranger Calls."
The sequel, like the original, intriguing habit of viewers. But if the original to us almost immediately reveal the identity of the maniac and showed footage of his life, the sequel less wasteful for such moments. Here, almost to the end is not clear who is psychotic and what his motives are. And it's far more depressing audience and introduces him to a permanent and constant voltage. Truly outstanding sequel, which easily makes you forget about the original. But here in this place, probably, would be more detailed.
The point here is. If you lived in the era of the output of the first part of the film – the end of the 80's, and then, after a fourteen met belated sequel, you would most likely considered a sequel gross forgery. But for a modern audience, I think the sequel will be much more attractive, for in contrast to lose its relevance of the first part, the second keeps a stiff upper lip. For the sequel to the phone call does not keep the main concept of the film. Actually, the film is so called, 'When a stranger calls again, "only to fans of the original do not miss the sequel. That's it.
It would be dishonest if I did not tell you about the main disadvantage of a sequel. Minus this is that Julia (one of the main characters of the film) in the end of the first part of the film was already married and with children – a little girl and a little more grown-up boy. But in the sequel to the details of her personal life as unfortunate, omitted. In fact, quite a clear what this is about. Just my husband and children would have prevented the writers to develop a script in the way in which it is developed in the film. Julia's family life would be a burden for the movie and would only hinder the development of the plot. But with this, you can easily put up, because, as the original film, the sequel is an interesting horror-detective. While the psychopath from the original film was trying to start a new life and light ran across the city from the detective, the psychopath of the sequel does not stop during the movie to escalate the situation. The atmosphere of the movie is really unique. I think fans of adaptations of Agatha Christie and the cycle of films about Sherlock Holmes, the movie "When a stranger calls again" like it.
Verdict. The film "When a stranger calls again" – a strong thriller with elements of horror. He will give you a much more profound viewing experience than the original film of 1979, it was published. In any case, look at least once this film is for any fan of such cinematographic.
Screenshots:
Download: