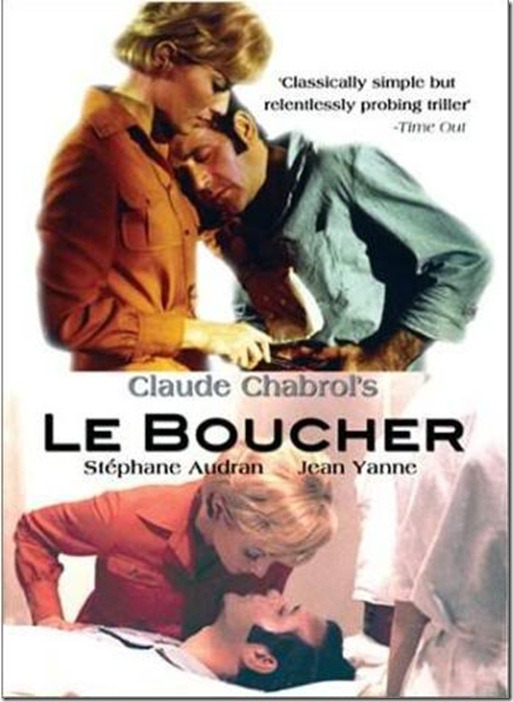 Year: 1970
Duration: 01:28:40
Directed by: Claude Chabrol
Actors: Stéphane Audran, Jean Yanne, Antonio Passalia, Pascal Ferone and Mario Beccara
Language: French (English subs)
Country: France | Italy
Also known as: Le boucher, El carnicero, Il tagliagole, Der Schlachter
Description: This is one of the only two films that Alfred Hitchcock wished he had made. Claude Chabrol (Girl Cut in Two) was known as the "French Hitchcock," and "Le Boucher" was considered by many to be his masterpiece. This is a sort of Hitchcock style is he / isn't he a serial killer – thriller set in the stunning Perigord area of France.
Made in 1971 this thriller still holds up very well and does keep you gripped 'till the very end, and the sense of menace is maintained throughout the film even in the scenes filmed in broad daylight thanks to excellent performances from all the leading players.
If your a fan of Truffaut's The Bride Wore Black I think you will also enjoy this lesser known classic, especially if you've been to the Perigord and are familiar with the rugged terrain and slight 'wierdness' of it's villages.
Review: The film "Butcher" is set in a small town, with its gossip, small food stalls and a sense of community. It all starts with universal joyous event – weddings. Her neighbors in the table are newly arrived in town a new school headmistress Ellen and local butcher half.
Their relationship begins with papered leg of lamb, but because – like a bouquet. Helen, in turn, gives a lighter in half. Popol ready to continue the novel, but Helen did not hurry. Each of them have scars on the soul. He has – from the war in Indochina and Algeria. She – from a failed love.
Helen and Popol captured by new feelings for themselves and at first did not pay much vnmianiya a sudden series of murders of young girls. But soon everything in their lives turned upside down.
Screenshots:
Download: