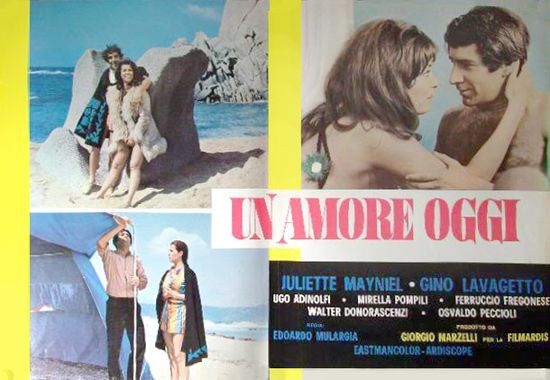 Year: 1970
Duration: 01:19:00
Directed by: Edoardo Mulargia
Actors: Juliette Mayniel, Gino Lavagetto, Mirella Pamphili
Language: Italian
Country: Italy
Also known as: 
Description: Albert is a neurotic photoreporter constantly hearing voices in his head reminding him some childhood thraumas; he has also nightmares about his Vietnam experience. Myra is a hippie girl: she seems happy and free, but her memory goes often to her mother who died in Auschwitz. With these premises a love story between them will surely become a drama…..
Un Amore Oggi (A Love Story Today) is one of the few flicks directed by Edoardo Mulargia outside his usual "Spaghetti Western" district. The psychological ambitions of the movie fall soon under the weight of long silly talks and voice-over, but some interesting moments peer out here and there in the form of fast-edited, orange-tinted stock war footage, some (it seems to me) Leni Riefenstahl sequences and a totally crazy slow-motion ending reminding in some way Pink Floyd's The Wall….
Not forgetting, of course, the presence of Juliette Mayniel (wife of Vittorio Gassman and mommy of Alessandro Gassman): maybe a little older (she was then 36) as "young hippie" Myra but right for the part. She can play, seems to have no problem appearing often naked and… God, those eyes!!!
The hippy brigade of Myra's friends looks more like a juvenile delinquent bunch (some of them wear sunglasses even at night) than a flower children crew. They can't escape the "clichès" of the era burning money, smoking joints, playing the same cheap EKO acoustic guitar (as Mayniel does) and sitting on the ground listening to some "enlightened" guy aping Leary proclaiming that "The art today is Psychedelic art" and "Every musical band has written at least an hymn to maryjuana and LSD" and "We know that LSD is less dangerous than cars and television" and so on…
Image quality, though not spectacular, is fully watchable. Maybe the master tape itself had that somewhat blurry look because the tv logo on bottom right looks crisp enough.
Screenshots:
Download: