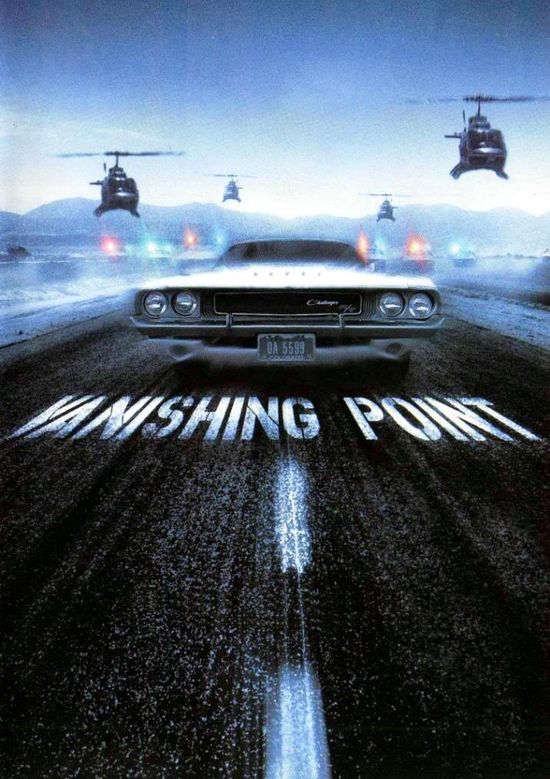 Year: 1971
Duration: 01:45:48
Directed by: Richard C. Sarafian
Actors: Barry Newman, Cleavon Little, Dean Jagger, Victoria Medlin, Paul Koslo
Language: English
Country: USA | UK
Also known as: Avto smrti, Carrera contra el destino, Corrida Contra o Destino, Fluchtpunkt San Franzisko, Point limite zéro,
Description: It must be said at once. "Vanishing Point" – is a cult film. Classic. He is quoted as saying, and occasionally revived in a huge number of films, music videos and some scenes related to car chases, races, persecution. Therefore, the attitude to it must be like to film a cult. Best regards. And the desire and willingness to ignore the many metaphors in it.
Review: Heard a lot about this cult movie , and after his frequent references to Tarantino's latest film , bought and looked .
Once I admit that movies about racing cars and I basically do not particularly interesting . I do , even the car still does not know how to drive , so my opinion is highly subjective.
The plot – the coolest racer of America should take the dispute to a certain state for some time. He try to prevent all the police and other authorities , but local radio DJ and other hippies trying to help him, because they see in it the freedom- fighter against the system.
1 – Delusional plot exists only to show a little more on the American off-road racing and car chases from the police.
2 – I hate hippies , and this film is full of losers .
3 – These look pretty boring and uninteresting. When viewing understand that this particular film of its era , which may be of interest only avid riders or elderly hippies. I am neither one nor the other one is not , so for me, this film cults questionable.
Of course, some moments in it. For example, pleasantly surprised by the meeting of the protagonist with the naked biker , and a meeting with the crazy snake catcher pleased , well, even though the ending was stupid , but the original .
In general , the passing film, which may be of interest only to a narrow circle of people. Perhaps this is the first time that Tarantino advice fell on deaf ears in my heart .
Screenshots:
Download: