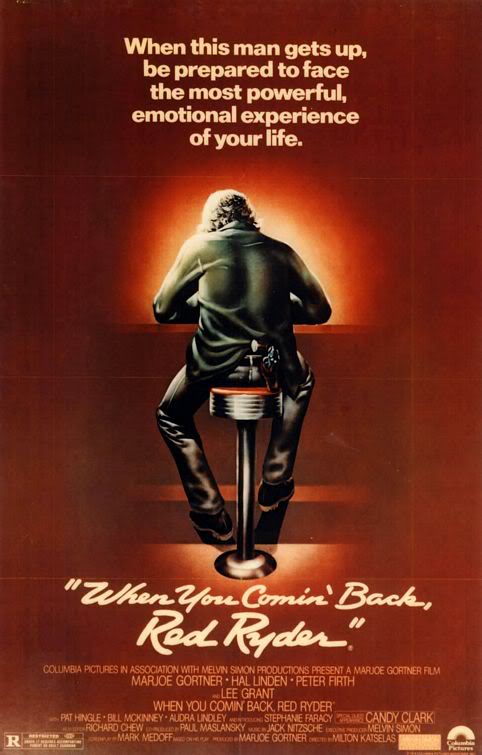 Year: 1979
Duration: 01:53:03
Directed by: Milton Katselas
Actors: Candy Clark, Marjoe Gortner, Stephanie Faracy, Dixie Harris, Anne Ramsey and Lee Grant
Language: English
Country: USA
Also known as: I epistrofi tou Red Ryder, La venganza de Red Ryder, Milloin palaat, Red Ryder?, O Dia Sem Esperança
Description: A slight upgrade from the other VHS rip that was previously uploaded. The picture isn't pretty, but the movie is really good, so give it a try if you haven't seen it. Enjoy!
Review: When Teddy, a Vietnam vet teetering on the edge of madness, and his young girlfriend barge into a forgotten New Mexico roadside diner, nothing will ever be the same for its five occupants. With black sardonic wit and the constant threat of violence, Teddy slowly begins to strip each character's pretensions and exposes their innermost secrets and fears. For everyone in that diner a searing moment of truth has been faced and, in a deeper sense changing them more than they would have the desire, or perhaps courage, to admit.
This tight ensemble piece is full of longing for the past, for childhood, for the innocence of the fifties with its cowboy heroes but its central issue is the loneliness of characters who have nothing but a madman to bind them together and propel them into self-knowledge and courage.
Mark Howard Medoff's razor-sharp imagery is overlaid with a metaphoric use of mythic and popular 20th-century heroes to achieve a biting commentary of the current American scene and a theatre experience of great impact. Written by the playwright of Children of a Lesser God, When You Comin' Back, Red Ryder? is a timeless script that explores fear, love, hate and loneliness and, ultimately, moral courage remains as taut and gripping as its first production.
Screenshots:
Download: