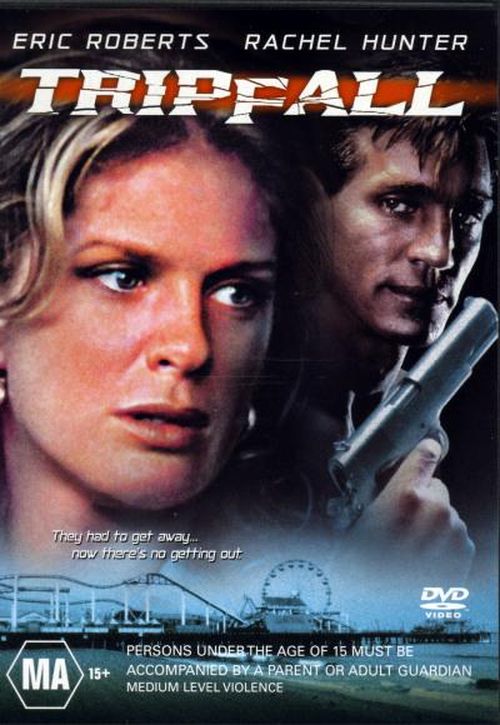 Year: 2000
Duration: 01:29:41
Directed by: Serge Rodnunsky
Actors: Eric Roberts, John Ritter, Rachel Hunter, Tyler Cole Malinger, Christina Ann Moore, Ken Palmer, Michael Raynor, Jf Pryor, Katy Boyer, Rick Deats, Wayne Duvall, Dylan Moore, Kevin Dean Williams
Language: English
Country: USA
Also known as:  Viagem do Medo, Das Todestrio, Un viaje accidentado, L'enfer au soleil, Epikindyno taxidi, Emberrablók markában, Ostaggi della follia

Description of Tripfall movie: Tired of the Affairs, a successful businessman Tom Williams went with his wife and two children on the Sunny California coast. But the long-awaited vacation turned into a nightmare. The gang of Mr. eddy, which has a long trail of killings, captures the entire family in hostage, and to demonstrate the seriousness of their intentions, on the Tom's eyes kill the random guy.
In exchange for freedom Tom must give the bandits his entire fortune — more than a million dollars. However, Tom realizes that Eddie is not going to let you live twice. All his life engaged in business and lived in a comfortable and safe residential areas, Tom must have the courage to save himself and his family…
Review: In this violent thriller, a serial killer turns one family's vacation into a nightmare.  Wealthy petro-engineer, Tom Williams (John Ritter), and his wife, Gina  (Rachel Hunter), take their children on a  vacation in Southern California.   There, they encounter Mr.  Eddie's gang of murderous thieves.  The gang captures the entire family and holds them hostage.   Eddie  (Eric Roberts) tells Tom that in order to secure his family's freedom, he must give the gang his $1.2 million.  However, Tom realizes that the gang is not going to let his family live anyway. He must act to save them.
Screenshots
Download