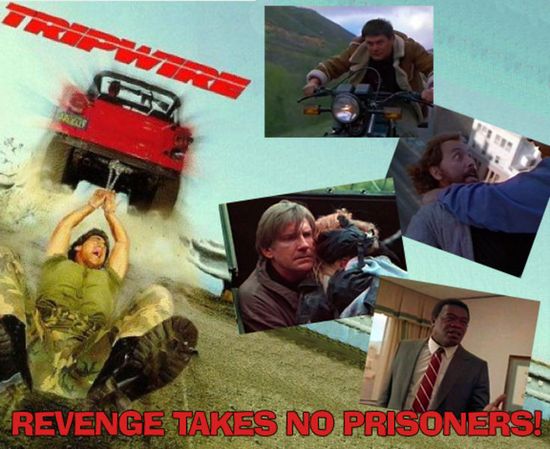 Year: 1989
Duration: 01:35:19
Directed by: James Lemmo
Actors: Terence Knox, David Warner, Isabella Hofmann
Language: English
Country: USA
Also known as: Einer muß dran glauben, O Rastilho, Tripwire: sul filo del rasoio, Acélcsapda, Silmukka kiristyy, Sangue de Herói, 
Description of Tripwire movie: In the process of routinely monitoring a shipment of high-powered assault weapons by rail, FBI agent Jack DeForest (Terence Knox) becomes involved in a hijacking by international terrorist and all around bat-shit insane murderer Josef Szabo (David Warner) who has brought his group to steal the shipment.  After a kickass motorcycle chase, DeForest shoots and kills the passenger in the getaway truck, causing it to flip and wreck before he himself is knocked unconscious.  Unfortunately for him, the passenger just happens to be Szabo's beloved teenage son.  In a blind rage, Szabo kidnaps the family of agent DeForest (Meg Foster and Andras Jones), sends him an irate videotaped message and disappears without a trace.
Naturally, our hero goes completely ape-shit, grabs a streetsweeper shotgun, and begins throwing guys off buildings and terrorizing local scumbags (including Tommy freaking Chong!) to try and find his family and the man who took them, leading up to a blazing shootout in a gun shop and a particularly brutal smackdown in the mud outside.
Unfortunately, none of this helps him find his wife and son, and in an unusually realistic twist he's thrown out of the FBI in disgrace despite an attempt by his superior officer (Yaphet Kotto) to salvage his reputation.
Review:
Screenshots:
Download: