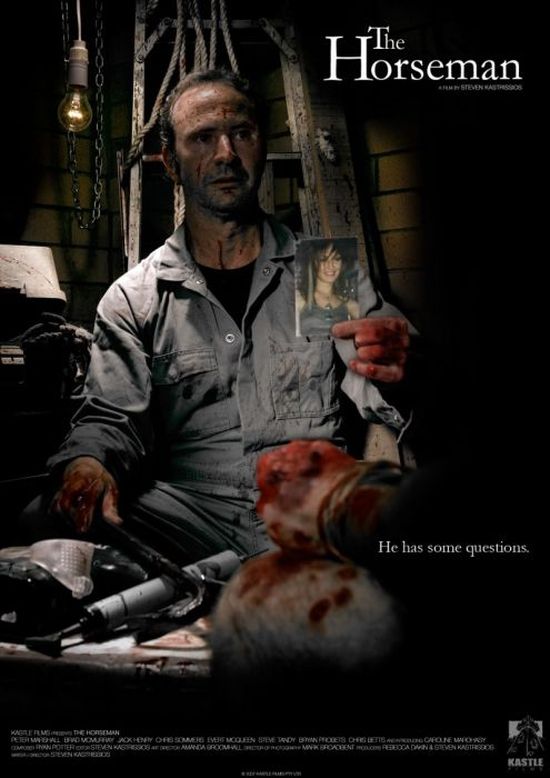 Year: 2008

Duration: 01:38:08
Directed by: Steven Kastrissios 
Actors: Peter Marshall, Caroline Marohasy, Brad McMurray and Robyn Moore
Language: English
Country: Australia
Also known as: The Horseman – Mein ist die Rache, Az apokalipszis lovasa, Orgi kai timoria, Vingança Animal
Description: After the death of his daughter, Christian gets a video, which probably sealed the last hours of her life. In search for the answers, he will plunge into the maelstrom of violence and cruelty, following one after the other participants of the video.
Review: Theme in the movie is widespread. "The Count of Monte Cristo", "The Man from Nowhere," "Taken", etc., etc., etc.. And the most interesting of these films never tire of watching! Perhaps the reason for this is that in every picture hero seeking justice on their own, which in turn motivates the viewer to act or deed. And then the Australian movie that rarely gets into my hands. After reading these things anntoatsiyu decided zasmotret film and give a verdict. The result came out very expected.
I have to say, the film is not a fountain, it was full of blunders and the plot is erased … not even to the holes, and to bloody blisters! But the film is not closed and is not removed from the eye away, look away! The magic lies in its darkness and dim, and still is, the main character – this is a simple man. He does not own special skills of combat, it is driven only cold blooded revenge. And dim picture, only adds to the atmospheric score, which is created litsedeya. And the movie is filled with pleasant and ambient music, which gives even more darkness in the dark world of film.

Screenshots:
Download: