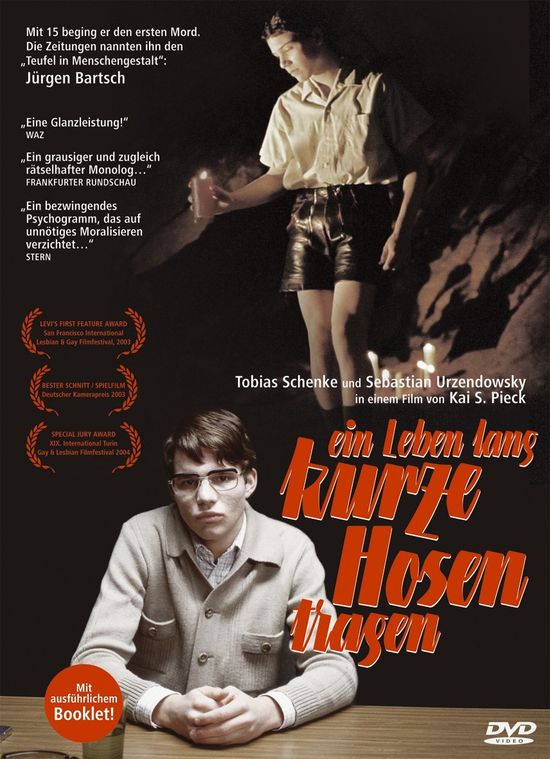 Year: 2002
Duration: 01:20:41
Directed by: Kai S. Pieck
Actors: Tobias Schenke, Sebastian Urzendowsky, Ulrike Bliefert and Walter Gontermann
Language: German (English subs)
Country: Germany
Also known as: Ein Leben lang kurze Hosen tragen
Description: In the period from 1962 to 1966, four schoolboy in the Ruhr area in Germany were raped, tortured and killed. Their tormentor, Jurgen Bartsch was only 15-year-old child when he made his first offence, and only 19-years – when he was caught. The film is a confession of Bartsch, reconstruction of its crimes.
Review: Movie "Child I Never Was", without unnecessary fantasies, punctual recreates the shocking story of nineteen Jurgen Barch, hitting the police after a failed attempt to kill another boy, who had in the previous four years ago obsessions bury four young victims killed by hazy consciousness troubled children exposed to their adoptive parents, undermined him of his peace of mind.
There is no doubt that the clinical case, which arose out of someone else's family pathologies, social isolation, secular and religious hypocrisy, blindness, distort incentives teenager, oppressing his mind breaking the psychological perception of others, oburevaya unspoken fears, pushing for soothing pain.
Quite bezeffektny, the film leaves a frustratingly-oppressive feeling of impenetrable walls, which the protagonist is separated from the whole other world, immersed in their nightmares and mental formulas, draw a line through reason, the broken resistance in helpless circumstances, helpless and without outside help.
Screenshots:
Download: