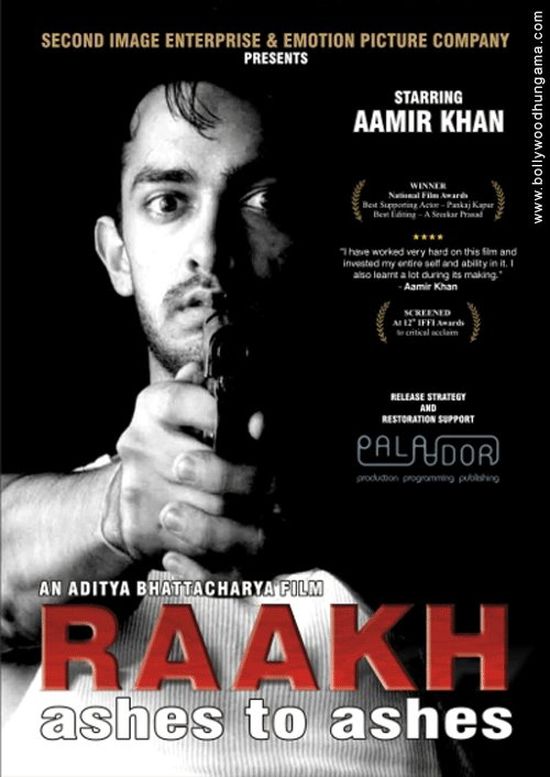 Year: 1989
Duration: 02:04:47
Directed by: Aditya Bhattacharya
Actors: Aamir Khan, Supriya Pathak and Pankaj Kapur
Language: Hindi
Country: India

Also known as: 
Description: Impulsive young boy Amir Hussain becomes powerless witness of violence against his former girlfriend Nita. Full of despair, guilt, and plans for revenge, he leaves home, wandering the streets, until, in the end, fate brings him to a police Kapoor, who for many years wants to deal with the local mafia gang leader guilty for raping Nita. Cynical police man and Amir have a common goal – to take revenge and destroy
Review: Film Raakh (Ashes) – a unique film, and not because it is a young Aamir. Although that movie just wins. The uniqueness of the film is that it does not look like any traditional Indian movies, not to contemporary Indian cinema. He looks like a good Soviet films in spirit, if not in content. It is evident that the budget was not great, but I could not tear myself away from beginning to end, and never had a desire to rewind. Think I'll be revised to better understand.
The plot is that a young boy, Amir, can not forgive himself for that part because he was raped by a girlfriend, while he was a helpless witness. After that, he makes several attempts to get even completely helpless, but rapists were known mafia, which the city authorities and the police prefer to be friends and not fight. Amir leaves the house, living on the streets, it picks up a woman, beautiful, but lonely. We still do not know what her problem.

Screenshots:
Download: