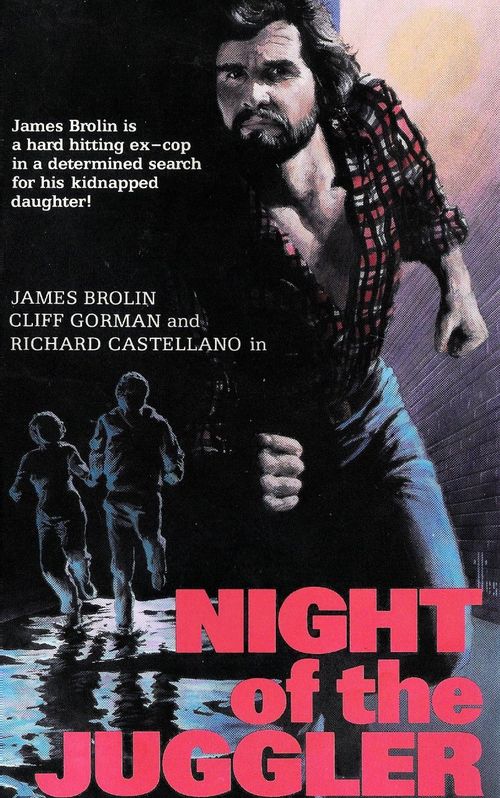 Year: 1980
Duration: 01:41:00
Directed by: Robert Butler
Actors:  James Brolin, Cliff Gorman, Richard S. Castellano 
Language: English
Country: USA
Also known as: Pursued, Secuestro en Central Park, New York Killer, A Noite do Falcão

Description:This might be a phenomenal film if you enjoy hoards of that classic New York ghettoness which we all remember from the 70'sand 80's.
Features consist of abandoned housing, guys, strippers, crackers firing shotguns in the middle of the road, a vicious dog mauling and other crazy antics. Other interesting events include the Puerto Rican gang battles , car component stripping in what appears like the Bronx, and to top it down the main plot involves the kidnapping of a child
But gentlemen, this one and ladies ain't about the plot, so bust out your favorite alcohol and sit down for a wild trip down crack street deep in the jungle of the Big Apple!
we thought this had been plenty of enjoyable myself,hats down to Cletus Kank for the original rip
Review: Another of those 'WHY isn't this out on DVD?' titles, if there's any one film that makes sleazy pre-Giuliani New York a character, it's this one.
A slum-dwelling kidnapper (a mad Cliff Gorman) abducts a young girl he believes to be the daughter of a millionaire. Unfortunately for him, he's instead taken the daughter of an ex-cop (James Brolin) – who'll go to the end of the Moon to get her back.
Or rather, he'll go from one end of New York City to the other to get her back – facing a gauntlet of street gangs, pimps, soapbox preachers, whores, thieves, dogs, and a corrupt shotgun-toting cop (Hedaya) who REALLY hates his ass!
Scarcely since EXTERMINATOR 2 will you find New York be given such a stereotyped, unappealing point-of-view – the city's a truly dangerous, filth-caked, building-site, shithole, where the people veer between crazy, violent or crazily violent.
You get an incompetent detective (Castellano), a bitchy ex-wife, a Puerto Rican cab driver (Patinkin) who just won't shut up, a helpful peepshow performer (Mitchell), and other weirdos.
You'll also find a great deal of highly quotable dialogue, much of it racist bile (which you'd never get away with filming these days) from Cliff Gorman's character, but that's not to say you don't get great chatter from elsewhere.
My favourite being the stereotyped old black lady, when asked about Gorman's character – "Who, the Mole Man? That sucka's crazy!".
The story's generic and routine, and the action's also low-budget – but the whole thing is just so quintessentially 'New York' – and 42nd Street New York at that – that the film becomes in invaluable, and indispensible, time capsule.
Unfortunately, the finale is very dark (it's set in the sewers), but this seems to be a problem that affects every print of the movie.
Screenshots:
Download: