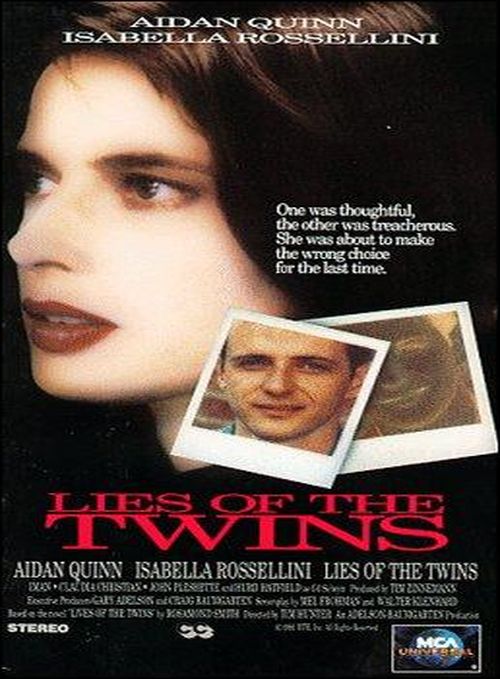 Year: 1991
Duration: 01:32:25
Directed by: Tim Hunter
Actors: Aidan Quinn, Isabella Rossellini, Iman
Language: English
Country: USA
Also known as: Doble engaño,Jogo Duplo,Man liebt nur Zweimal,Peligrosamente iguales,Trouble Jeu,Hazug ikrek,Bugie allo specchio
Description: A stylish model sets off on a charming occasion with her doctor. The connection is placed into question when the protagonist espies her partner with another female. The guy she notices ends up being his nasty twin, complicating issues further.
1st displaying on the USA Network on August 21, 1991, Lies of the Twins is founded on the novel Lives of the Twins by Joyce Carol Oates, composing under the pen-name Rosamond Smith. In an interrogation, Oates suggested that the moviemakers "altered the story quite a bit. I didn't view it."
A lot of the movie was filmed at Richard Harrison's beach-front home in Malibu. It was one of the 1st productions that supermodel Iman performed on during her maiden year in Hollywood.
Review: This time 'round, I have worked meticulously around the clock (seriously, I put some serious time into this one) to bring you the sexy 1991 Made-for-Cable-TV thriller LIES OF THE TWINS. Based on the novel "Lives of the Twins" (what's a V to the world, anyway, right?), this torrid thriller involves a good twin (Aidan Quinn), a bad twin (Aidan Quinn again), a hot model (Isabella Rossellini), another hot model (Iman), and favorite Richard Harrison is also in the mix – and much of the film was shot at his Malibu beach home! Claudia Christian, John Pleshette, Hurd Hatfield, Angela Paton, Barbara Eda-Young, Brenda Varda, Jeannine Bisignano, Leonard Termo, and Tracey Ross also appear in this forgotten fare from The River's Edge director Tim Hunter (River's Edge), and the co-writer of Buried Alive II.
This rip hails from a former rental NTSC VHS source, I had one issue after another capturing it: Universal's Macrovision is a real bitch to get around, and then the tape started rolling after I finally managed to get a good recording going! GRRR! Hopefully, my efforts shall not go entirely unrewarded. Look at it this way: here's your one and only chance to see a '90s made-for-cable erotic thriller that features Aidan Quinn, Isabella Rossellini, and Richard-fucking-Harrison in the same goddamn scene together interacting with one another.
Screenshots:
Download: