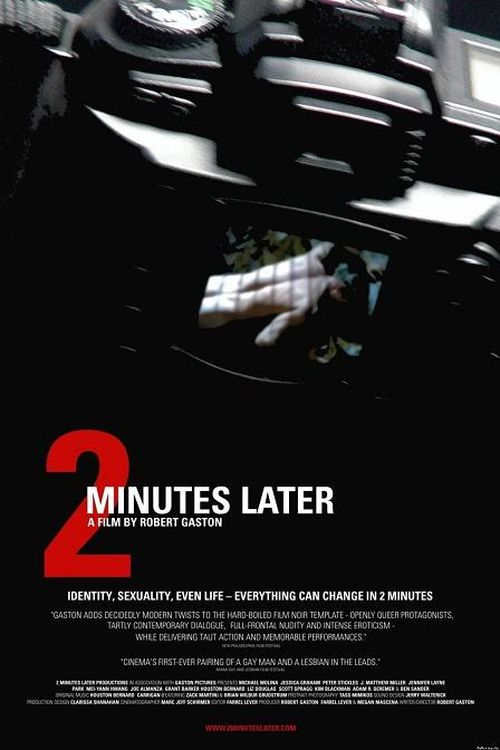 Year: 2007

Duration: 01:08:14
Directed by: Robert Gaston

Actors: Michael Molina, Jessica Graham, Peter Stickles
Language: English
Country: USA
Also known as: Two Minutes Later

Description:When in Philadelphia disappears photographer Kyle who has talent constantly communicate with the bad guys, for the search are taken his brother-twin Michael, who in addition to all else, and gay, with his companion-lesbian Abigail. To find the location of a hack or a possible murderer of a wide range of suspects, «nonconventional» couple is involved in the adventures of detective twin begins to impersonate missing brother…
Review: Genre – a detective for sexual minorities.
In fact, vaguely related to a story about the search for the missing photographer ( Kyle Delmor ), his twin brother (Michael Delmor , gay ) and a lovely private detective ( Abigail Marks, Lesbian) , which has turned into trips to gay bars and views of nude photo shoots male bodies "suspects" without a hint of detective intrigue.
That's it! Without a hint . The death of Kyle's show at the beginning of the film. The murderer of us are not trying to hide . Memorable scenes (even explicit content ) in the film. Michael ( Molina ) , who suffers from topographical cretinism , the whole movie goes with a dumb question on the face ( As I drifted here How to get out of here , as soon as possible ? ) . Abigail ( J. Graham ) Nice eyes , but her flutter with large-caliber gun on his heels, evoke sadness . By the end of history , the authors borrowed from the reception of " Blow " is seen remembering that you were going to shoot a detective , not a documentary sketch on the theme of "Blue Moon ." Short, evoke a yawn interchange. That's all that you get 68 minutes later.
Why the name ( if anyone interested ) ? Kyle was older than Michael at this time.
Connoisseurs of art photography , please do not worry . Interesting solutions and techniques you will not find here , although the film often breaks from the narrative to a series of successive images of erotic and intimate content ( gay orientation is observed ) . In normal magazines like doing? Read the thousands of pictures taken 1-2 , and represent to the audience . But here, everything was removed, and laid out in front of us . The best that it can , a little to reveal the nature of prematurely departed Kyle , to which , by the way , more and feel less sympathy . So if you value , good picture , flip through better special editions .
Acting – more than mediocre , the technical team , seems to have engaged in the above mentioned photo – sessions , forgetting about the movie. I would like at least someone to speak well , but does not work.
Summary. It is highly recommended to all – pass up! Especially fans of detective.
Screenshots:
Download: