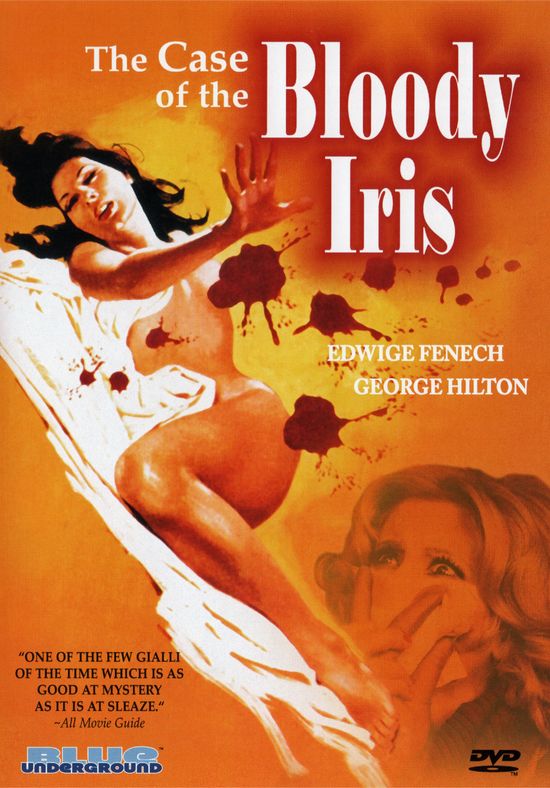 Year: 1972
Duration: 01:34:10
Directed by: Giuliano Carminio

Actors: Edwige Fenech , George Hilton , Anabella Incontrera

Language: Italian

Country: Italy

Also known as:Erotic Blue , Rendez-vous avec la mort , Das Geheimnis der blutigen Lilie , Las lágrimas de Jennifer, Les rendez-vous de Satan, The Case of the Bloody Iris , Aima sto kafto kormi tis Jennifer , Bes damla kan , The Case of the Bloody Iris , What Are Those Strange Drops of Blood Doing on Jennifer's Body? , Why Are Those Strange Drops of Blood on the Body of Jennifer .
Description: Call girl stabbed to death in the Elevator prestigious home. Woman dancer, found her body, also brutally murdered. Young British model, working in Italy, enters into the vacated apartments and soon realizes that has become the new purpose of the maniac. Who is the killer? Perhaps this is a friend with whom she works together? Or her new boyfriend? Or jealous and resentful thrown lover? One of the weird and eccentric neighbors? Probabilities are endless, and the murderer closer…
Review: Wonderful giallo, produced by Luciano Martino allows the viewer to enjoy the «Queen of giallo Edwige Fenech. The actress once again, after «Secret sin Mrs. ward» and «All shades of darkness», gives a great role.
But the film "Case Of The Bloody Iris" to this role. I have to say that the plot is built around a series of murders of young and beautiful girls in the trendy apartment house.
To the last minute is not clear who is the murderer. Moreover, this uncertainty is very beautiful verified film Director.
From the very beginning of the film "… Bloody Iris", all attention will be focused on Charles bright. This is not too well-known actress, issuing several memorable scenes. One of them will be in a private club, where it will cause the customer to fight the winner will be able to do all that is desired. But is it so easy to beat that woman.
Subsequently Karl bright play a memorable role in the «torso» and get lost in the history of cinema. However, in all the external and professional parameters of this African-American women's career could have turned out much better.
Well, then, the whole centre of attention is transferred to sexual Edwige Fenech (Death Hunt and Grazie nonna). And actress fully pleasing to the viewer. Besides, again as her partner is George Hilton (they already starred in several films together).
In summary: a superbly crafted giallo. He is not so famous, but it means nothing – one of the best films of the genre. Besides magnificent small role does Karl bright, and Edwige Fenech traditionally played at a high level
Screenshots:
Download: