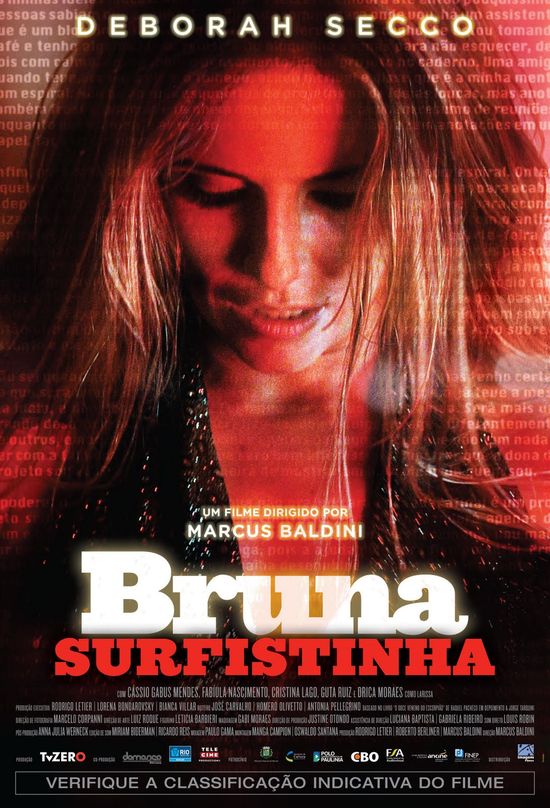 Year: 2011

Duration: 01:47:36
Directed by: Marcus Baldini
Actors: Deborah Secco, Cássio Gabus Mendes, Drica Moraes
Language: Portuguese (English subs)

Country: Brazil

Also known as: Bruna Surfistinha, O Doce Veneno Do Escoprião
Description: Raquel – girl, living in a middle class family, in her 17 years protests against this way of life, and leaves her family and studies at a traditional college in São Paulo, becoming a call girl.
Review: What particularly strikes me in Brazilian cinema – nothing here trying to embellish. No pathos, no unnecessary tragedy. There is only life, so bright and so dirty, so simple and so complex, so pure and so vicious.
Raquel was call girl Bruna because of bad coincidence. She was not happy – parents are not particularly pampered attention, brother hated school mocked and put her a whore – well, I thought Raquel, I'll do it. She wanted freedom – and money. Well, she got her. Off. On top of this notoriety and bright, as she thought life.
For the first month she had more men than most in a lifetime. It becomes the best in the business, then it becomes own boss – Bruna girl surfer. She writes a blog, it sort of internet star. Men are crazy about her. But this is only the bright packaging of its present life.
But in real life, it falls to the bottom – bullying his body, one can not mock a soul. Drug addiction, anger inadequate perception of the world … Where is the girl with bangs that just want to be loved?
But she is chosen. She chose that freedom. I do not judge her, but I do not admire her.
Deborah Secco is gorgeous, no words. The film may not like in the full sense of the word, but it's definitely catchy and makes you think, that in itself is quite a lot.
By the way, thank you for the wonderful soundtrack, especially Fake Plastic Trees performed by Radiohead.
Anticipate criticisms of dirt and debauchery movie … Well, first of all, a film about a prostitute can not be dirty, and secondly, I think it will be worse, just do not watch it until a certain age.
Bruna Surfistinha is a true story. Think about it.
Screenshots:
Download: