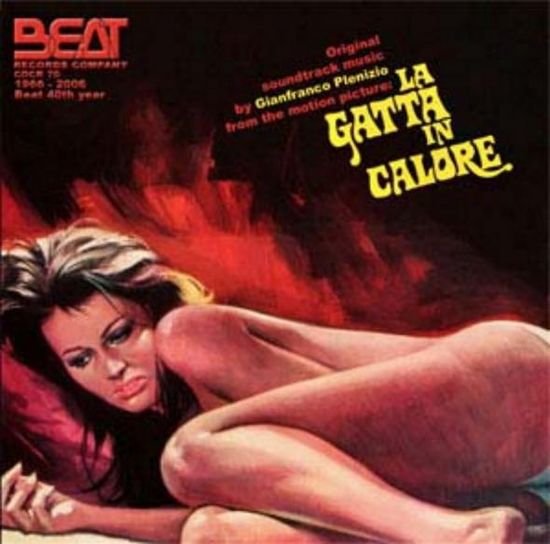 Year: 1972
Duration: 01:26:25
Directed by: Nello Rossati
Actors: Eva Czemerys, Silvano Tranquilli, Anthony Fontane
Language: Italian (Eng Subs)

Country: Italy

Also known as: Exosyzygikes erotikes peripeteies
Description of La gatta in calore: Rare sleazy thriller of Italian cult director Nello Rossati with magnificent score by Gianfranco Plenizio. 
Review of La gatta in calore: Home psychological thriller Nello Rossati like eyeballs classic joke: "husband returns from a business trip and finds his wife with a neighbor …". Only now I have a neighbor bullet in his head, and his wife in a state of near hysteria. In this case, makes the hero a normal thriller? Naturally begins to invent ways of getting rid of the corpse varying degrees of success, around which any self-respecting filmmakers will build the story intrigue. Oh, and then, depending on the genre or adventure will begin with a dead body in the trunk and merry chase, or the spirit of adventure with remorse and fear of exposure. What makes your heroes Signor Rossati? He settles husband and wife in the kitchen and starts talking about how they got it to such a life in the spirit of classical drama Nikita Mikhalkov's "Five Evenings". Two characters, one room and an endless dialogue in an effort to understand himself and loved once (and maybe your favorite now) man.
However, as far as deep for (potentially) a psychological drama Eva Chemeris old enough, never among the best Italian actresses – the big question. Silvano Tranquillo around here was in place, but the Signorina Chemeris … her future career, which took place mainly in secondary roles "strip" is quite meet the level of talent of Eve, but here, it was necessary to get out with the help of other virtues. Which was not much.
Ironically, with the film, in which almost no action, the plot is built entirely on dialogue, and one of the two main actors frankly did not reach the level of the other, looks quite presentable. And the credit goes to the first director who never for a moment does not forget that the reason for the endless talk and accusations of Anna and Antonio is the lifeless body of their lodger Massimo, lightly sprinkled with fallen leaves in the garden. This corpse is constantly behind the main characters, providing a picture of a healthy level of suspense and promising non-trivial isolation. Also, at times this dead man appears in good health and very sex appeal form, as in the flash memory of Anna Retrospective complete opposite of her husband, who left to head into work and had forgotten about the young and beautiful wife.
Screenshots:
Download: