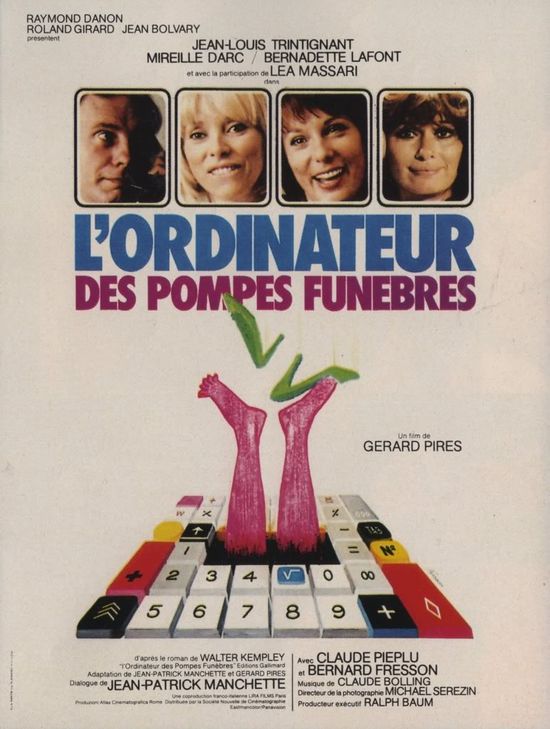 Year: 1976
Duration: 01:24:43
Directed by: Gerard Pires

Actors: Jean-Louis Trintignant, Mireille Darc, Bernadette Lafont

Language: French

Country: Italy | France

Also known as: The Probability Factor, Como librarse de una esposa molesta, Caccia al montane, Assessinos por computador, Computer morden leise, L'ordinateur des pompes funèbres

Description: Employee insurance company Fred Malone – boring , not too smart, not very lucky man . He modest prosperity , cramped apartments and bitchy wife Gloria, who thinks his wife feeds him an idiot and disgusting soy porridge.
Every day , from year to year , Monsieur Malone tried to conform to the image of an exemplary family man and conscientious worker. However, " one fine morning " downer suddenly decides to kill his hateful little wife , and then his life changes dramatically .
Appear passion and desire to act , the desire to love and be loved, to grasp the immensity and become truly free ! And then there's beauty- secretary that dull Malone did not notice before , suddenly responds to his sudden interest in vehemence and passion.
With great zeal Malone accepted on the service super computer to simulate a situation of rapid withdrawal from life wife , and the machine to suggest various options . As a result, the program helps " close the lid of the coffin " of marriage painful problem …
But Mallon tireless and enthusiastically taken to solve such " sensitive issues " in the lives of their friends and acquaintances.
Screenshots:
Download: