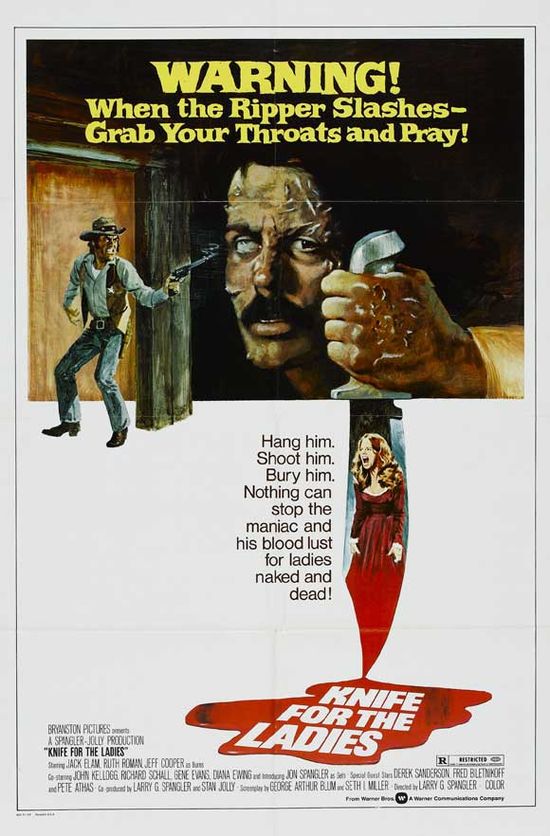 Year: 1974
Duration: 01:22:21
Directed by: Larry G. Spangler
Actors:  Jack Elam, Ruth Roman, Jeff Cooper
Language: English
Country: USA
Also known as: Jack the Ripper Goes West, Silent Sentence, Cuchillos para damas, A Knife in the Dark
Description: The Old West is plagued by Jack the Ripper type of murders.  A detective arrives in town to investigate.  He is not welcome by the hostile community, hence making his job of finding the killer even more difficult.
While a Knife for the Ladies ran 50 minutes, this is the complete 82 minute version.  A Knife for the Ladies was cut so that it could fit double and triple feature bills. Bryanston Pictures released it on bills with Andy Milligan's Blood (1974), Damiano's Legacy of Satan (1973), and various other configurations.  It was released as a double feature on a Greek videocassette with Milligan's Blood.
Silent Sentence, the only uncut version of this film that exists, tells a much more coherent story than the 50 minute cut.  The detective investigating the murders has a much more substantial role in this full-length version.  The transfer is excellent compared to the Knife for the Ladies.
Screenshots:
Download: