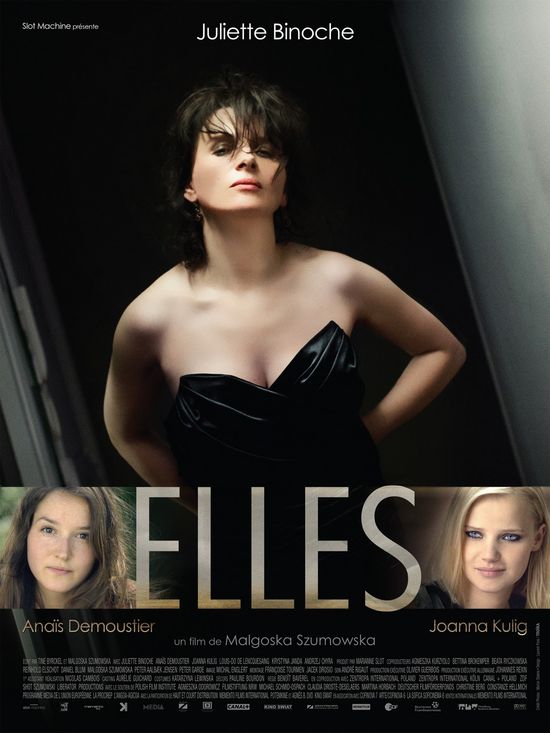 Year: 2011

Duration: 01:35:18
Directed by: Malgorzata Szumowska
Actors:  Juliette Binoche, Anaïs Demoustier, Joanna Kulig
Language: French  | English  | Polish

Country: France | Poland | Germany

Also known as: Sponsoring, Ellas, Elas, Das bessere leben
Description: Journalist Anna (Juliette Binoche – Rendez-vous and Children of the Century) investigates a case for the magazine Elle. She meets with a group of young students who earn on their education by prostitution. Frequent meetings balanced and loving lady girls call Anna sensual Renaissance and forced to rethink their beliefs about money, family and sex.
Review: Journalist Anna, working in a glossy magazine Elle, wrote an article about two female students, selling her body. A deep passion for the topic leads to a gradual rethinking of Anna's life and marriage, and much will change her attitude towards sex and family values.
Malgorzata Shumovska erotic drama "Elles" in 2011 in a very elegant and French fine style explores not only the problem of selling love that has existed since the beginning of time, but also the theme of betrayal men to their wives, the subject of internal looseness in the absence of external and even in the film is present contrasting world of gloss and glamor, which is the embodiment of Anna, with the real world, full of filth and lust.
The role of Anna was for Juliette Binoche one of the best in her career. Her character, entering into the world of hidden passions, opens and something new for themselves and begin to understand the essence of masculinity. The actress gave great spiritual metamorphosis of the heroine.
The film Elles in its structure resembles a frank discussion with the audience on one of the taboo topics, because in that feed, as in most copyright movies, the plot is secondary, and each scene captured Pavel Myketynom operator, is full of character.
The film is almost devoid of musical accompaniment, but only occasionally sounding classical melodies reinforce psychology situations. Classical music is also the key to the interpretation of the film.
"Elles" – a strong, truthful and at the same time elegant movie that I want to recommend to all fans of the auteur cinema.
Screenshots:
Download: