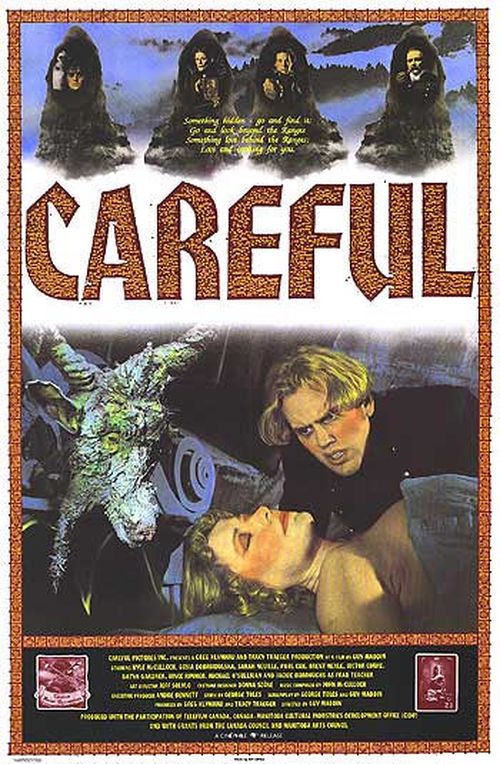 Year: 1992
Duration: 02:39:18
Directed by: Guy Maddin
Actors: Kyle McCulloch, Gosia Dobrowolska, Sarah Neville, Brent Neale
Language: English
Country: Canada

Also known as: Lábujjhegyen, Lawinen über Tolzbad, Prosektika
Description: In a remote alpine village at the turn of the centuries Toltsbad people are chatty and try to behave more quietly, fearing an avalanche … I haven't actually watched this, as I'm not really into this kind of film (I prefer martial arts/action), but I thought many of you may enjoy it
The picture "Careful" was born at the junction of desire guy Maddin to hire mountain movie and the idea of George Towels tell pro-incest history.
Initial elements of the film are traditional for Maddin  – missing or dead father, appearing here as a Ghost; suicide, Femme Fatale, irony, mixed with the tragedy, in this case with the Greek – Oedipus and Electra; matriarch, injuries, blindness; the family, as the court of first instance of social repression and complex complexes of guilt, which to a greater or lesser extent are inherent to all characters. In addition to these plot structures present and other favorite motifs of the Director – Hommage expressionism (broken mountain silhouettes streets Tolzbad very similar Hollstenvil view Guerra Тротта and its castle resonate with Dr. Caligari and wax figures refer to Paul Leni); the fictional location, defined as «there is no place on earth», the rough sound, imitating old age film, direct quotes. Film «Lowland» (1954), Leni Riefenstahl, not related to the classical stage of mountain films, guy Maddin looked already in the beginning of the shooting process. When they shot the scene of the duel at loggerheads, he almost literally told fight choreography in the ribbon Riefenstahl.
«Careful» is a series of taboos of the Victorian era, who suppress and reject the desires. Control over behavior, to compliance with the Protocol, discretion and propriety is ethical dominant, in which there are all population Tolzbad . Breaking the commandments always will be punished. No matter what will be a violation of recklessly loudly spoken word or hidden incest desires. All actors who, one way or another, were involved in socially taboo relationship (whether it is a sexual attraction to a family member or a mediocre adultery), must die.
Screenshots:
Download: