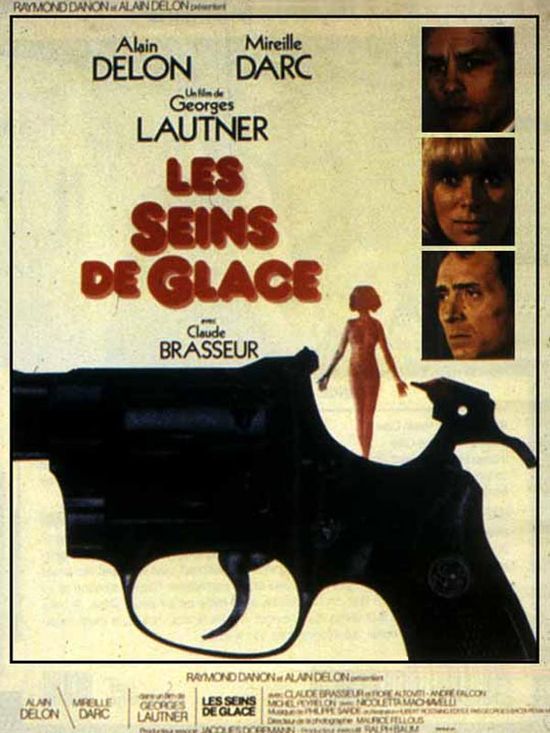 Year: 1974
Duration: 01:41:13
Directed by: Georges Lautner
Actors: Alain Delon, Mireille Darc, Claude Brasseur
Language: French (English / Spanish / Portuguese / Dutch subtitles)

Country: Italy | France

Also known as: Les seins de glace | Icy Breasts | Icy Flesh | De ijsheilige borsten [sic! no kidding!] | Den mystiske skønhed | Los senos de hielo | Jäinen syli | Jäätävä syleily | Someone Is Bleeding | Ektelestis yperano tou nomou | Jégkeblek | Különös háromszög | Esecutore oltre la legge | Lodowate serca | Buzdan gögüsler | Eiskalt wie das Schweigen
Description: Alain Delon, Mireille Darc and Claude Brasseur played the sad story of impossible relations against the backdrop of icy Nice.
Dark – who suffers from panic attacks a young woman with a bunch of skeletons in the closet, Delon – her lawyer, rescues her from all sorts of troubles, and Brasseur, light-headed, almost lightweight screenwriter series, accidentally met her on a deserted beach cold and fell in love as a boy.
Surprising, but logical denouement to the music of Philip Sarda.
Bitter, with a taste of sea salt film. A blond bangs Mireille Darc and full of pain and love blue eyes Delon long standing in the eyes of …
Review: In the movie "Icy Breasts ," the chief ornament , of course, is Alain Delon, again speaking in the role of villain. I've always said and I will say – it is not the role of villains . The image shown to them here is a lot of conflicting emotions. But for the beginning of the movie .
The plot of Icy Breasts is interesting enough , I like , like the time where the brother of a lawyer ( Delon's character ), tells the hero Brasseur about public relations counsel is with the main character . "He loves her and wants to marry ," then a spectacular flying glass from the second floor and we see a woman who says something like " prevents only one thing: his wife is already there ." A kind of a love polygon with a complex plot . And so I will describe the order of the characters.
Mireille Darc – its heroine , the former toksikomanka that killed her husband, who it himself to drugs and trained . Not to say that unbalanced , and still fragile psyche plaque is present . She has a fan , a lawyer , a beautiful , brilliant gentleman who was indifferent to her , but it scares her , still waters as they say, run deep .
Then one day on the beach , she meets a man hero Brasseur , and feels for his unprepossessing appearance truly noble and sympathetic person that you can trust .
Claude Brasseur – except what has already been said , I can only add that falling in love with the heroine and aware of the consequences of his impulse, he does not throw it, and goes to the end .
Alain Delon – lawyer , overlooking a peaceful, relaxing and human devilish eyes. To be honest , I wished him a hero in life that obviously did not work . He has everything : a brother , a wife , prosperity, but not the most important thing , happiness . He loves a woman who sees him as a friend , and it's driving him crazy. He is even willing to put up with this, but the appearance on the scene of a competitor, to which the heroine is interested , makes his mind completely blur . I find it hard to believe that a sound mind , anyone can take the life of another person on the principle – "if only it did not get another ."
Screenshots:
Download: