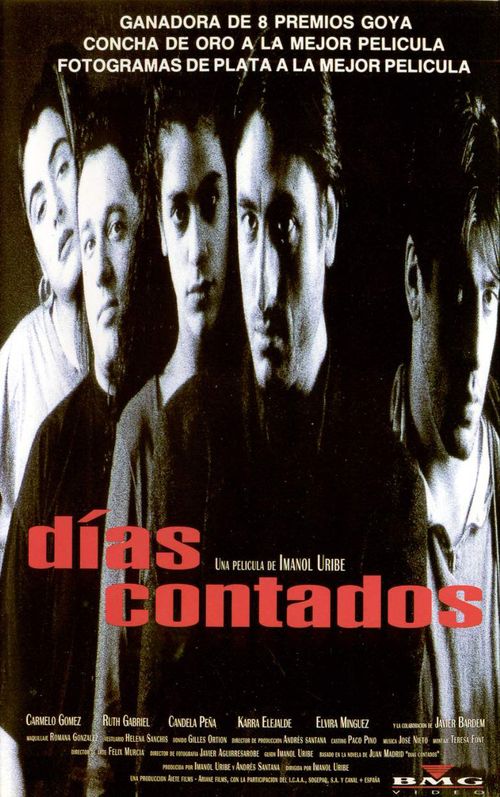 Year: 1994
Duration: 01:30:35
Directed by:  Imanol Uribe
Actors:  Carmelo Gómez, Ruth Gabriel, Javier Bardem
Language: Spanish | English Subtitles

Country: Spain

Also known as: Numbered Days, Running Out of Time, Deine Zeit läuft ab, Killer, With the Days Numbered, Megszámlált napok, Dias Contados
Description: In the Spanish capital explodes several government buildings. The militant Basque terrorist group is preparing to another devastating blow. With this purpose in Madrid comes terse and intelligent fighter Antonio, where it is difficult to identify the killer. He stops at the safe house in order to personally oversee the subsequent actions of their subordinates.
There he meets a beautiful Caro, the newly-minted Carmen, emancipated special free manners . A few gentle days with sexually liberated woman questioned the ideological conviction and political intransigence handsome macho. Sudden passion forces Antonio to make a choice : to continue to fight or surrender surging emotions and go out of business …
Uribe is a master of rigid social dramas, but in this case, melodramatic intrigue to repartition inflame emotions and complicated reflection of the protagonist. Besides, that is fundamental to Antonio civic duty , the fact that it surging doubts and began infighting caused purely Freudian motifs.
In addition to the soulful version starring Carmelo Gómez draws attention juicy work of Javier Bardem in the form of an informer addict with rotten teeth and habits of the " lumpen thugs ."
Screenshots:
Download: