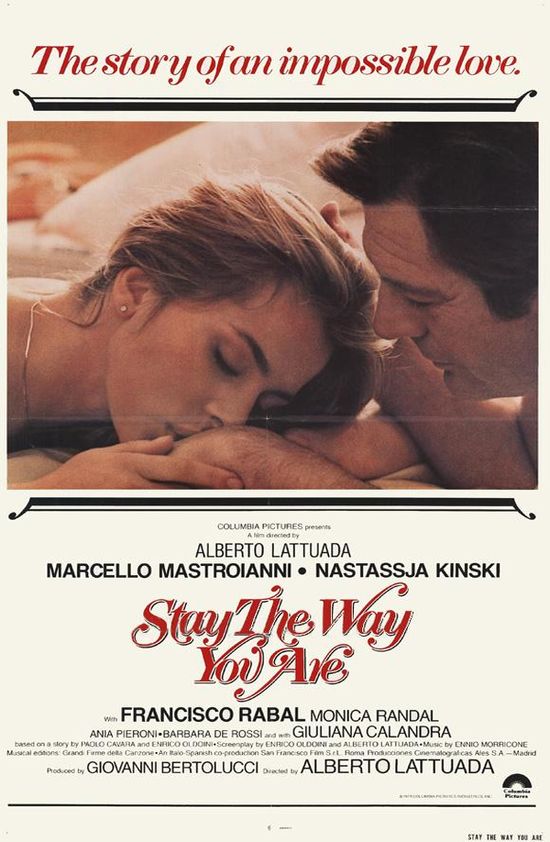 Year: 1978
Duration: 01:39:54
Directed by: Alberto Lattuada
Actors: Marcello Mastroianni, Nastassja Kinski and Francisco Rabal
Language:  Italian (English subs)

Country: Italy | Spain

Also known as: Così come sei, La fille, Bleib wie Du bist, Tentación prohibida
Description: Giulio Marengo (Marcello Mastroianni from The Story of Piera), a landscape architect from Rome, during the business trip meets a beautiful Francesca (Nastassja Kinski  from Little Boy Blue). But he soon learns that Frances – daughter of a woman with whom twenty years ago he had an affair, so it is possible that Francesca – his daughter.
Review: Girl, seeking at every man's father. Lovelace, experiencing a midlife crisis. His daughter, decides to make her have an abortion or leave a random child. And Florence, which enables a person to be himself.
Does not matter whether Francesca daughter Julia. Even if it has, then any law does not say that relatives can not love each other – they just do not have the right to marry. Important only natural, freedom, love and Florence. And the need to leave, when beauty is at its zenith.
A great movie! First of all, the fact that, yes, life is given once and give up feelings to please other people or society believes at least a waste of love. Eternal movie! If you are in love and you and your love too much "If", watch this movie and you will understand how you be.
Screenshots:
Download: