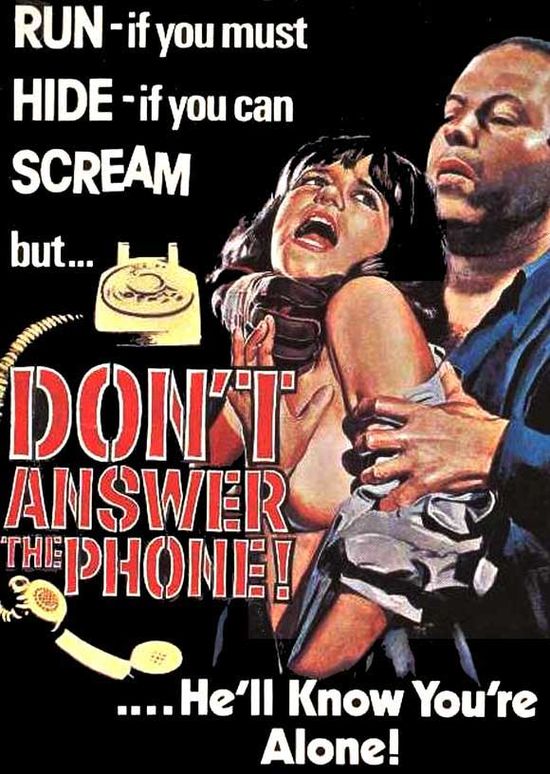 Year: 1980
Duration: 01:34:51
Directed by: Robert Hammer
Actors: James Westmoreland, Ben Frank, Flo Lawrence, Nicholas Worth and Denise Galik
Language: English
Country: USA
Also known as: The Hollywood Strangler, Ne vedd fel a telefont!, Nie podnos sluchawki, Todesschrei am Telefon
Description: Vietnam veteran, unbalanced photographer Kirk Smith, terrorizes Los Angeles, killing young women in their own homes. On his trail is a police detective lieutenant McCabe …
Review: The only film of Robert Hammer turned out very good in the thriller genre pattern of a serial killer. Erroneously attributed to the slasher film, but rather has a dzhiallo elements in the spirit of black gloves, the narrative almost from the face killer and shooting scenes of persecution. But by and large it's just a thriller about a maniac, an analog "Boston Strangler."
Watch the movie can only uncut-version, because of the theatrical cut all the erotic, the final four shots of bloody and slow-mo, as well as the most iconic scene of dialogue mad villain. So in the short version of the movie catch nothing at all, she ottsenzurena to impossible, but in the uncut movie is sure to please.
Psycho call in radio broadcasting, has the young women, strangling them and then stripped admires their naked bodies. From time to time, contact and attempts to hot wax, but without sadism. At least in the frame, nothing more cruel is not up to the ending, detached, even slow-mo to complete the bloody program. Two detectives are investigating the murder of women, and in parallel radio host tries in every way to help the investigation. All the story lines are intertwined, both with each other and through the secondary characters, so that instead of separate stories, we have a very complete picture, devoid of the main characters, or at once with three or four main characters.
Like the "Maniac" Lustig, part of the story is on behalf of the killer. And let in the first scene of his face hidden wear stockings, minutes later, already no mystery person, and all the scenes stalking women choose that victim and even some monologues aloud to reveal the inner world of the mad and criminal thinking, show it with a focus on personality maniac. However the police and the girl from the radio do not lack attention and plot all play their parallel stories, tightly woven into the theme of violent deaths.
Thriller was a good, but almost nothing outstanding. Actors organically, but without frills, work out quite the standard character types, creating in the eightieth year of the classics for the movie templates, killing almost expressive, and the atmosphere is kept fairly conventional. For the victims is not particularly worried, but not terrifying maniac antics enough to keep on their toes. Satisfactorily fulfilled all on-average, and unless a huge amount of erotic film really stands out from the more ordinary-looking pictures of serial killers.
Screenshots: