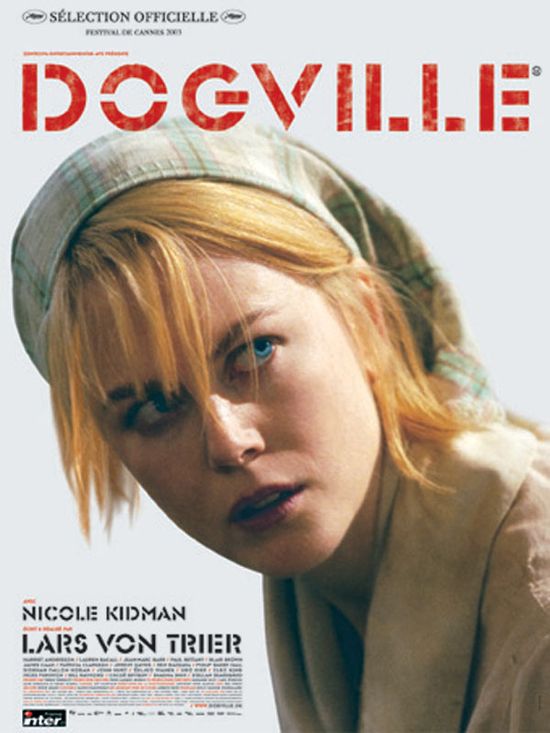 Year: 2003
Duration: 02:57:54
Directed by: Lars von Trier
Actors:  Nicole Kidman, Paul Bettany and Lauren Bacall
Language: English
Country: Denmark | Sweden | UK
Also known as: 
Description:1930. Escaping from the gangsters, young Grace (famous Nicole Kidman who played in Bangkok Hilton and BMX Bandits) is in the town of Dogville somewhere in the Rockies. Local residents reluctantly agrees to shelter the fugitive if it will work for them, but then their requests are unreasonable, and fear of exposure of inhabitants turns cruel bastards.
Grace gradually becomes silent slave inhabitants of Dogville, making sure that in this city, there is the flip side of kindness. But no one knows how dangerous can be Grace. Dogville soon regret that dared expose their fangs …
Be Warned…This is more of a play then a movie. It's also very long… A woman on the run from the mob is reluctantly accepted in a small Colorado town. In exchange, she agrees to work for them. As a search visits town, she finds out that their support has a price.
Review: This movie Danish director Lars von Trier's aesthetic shock from the first frame, it is difficult to combine a computer with 156 images, which were shot in standard decorations, with a painted on the floor of the former hangar fictional American town of Dogville, supposedly somewhere in the neighborhood of the Rocky Mountains . And ends at the emotionally devastating note when the greatest shock is not even the incredible upheaval that occurs with the heroine named Grace (which means – "grace," "grace," "forgiveness"), and all the inhabitants of a godforsaken town, where the usual dog, albeit with too loud nickname Moses (ie Moses), may be mistaken for Cerberus at the gates of Hell. Kind of punch in the stomach, and then leave the room if the bent suddenly weakened legs are final archival footage of the Great Depression, when suddenly you feel physically oppressive state of despair, full of rejection and grinding poverty, which is experiencing a genuine people caught on tape
Screenshots:
Download: