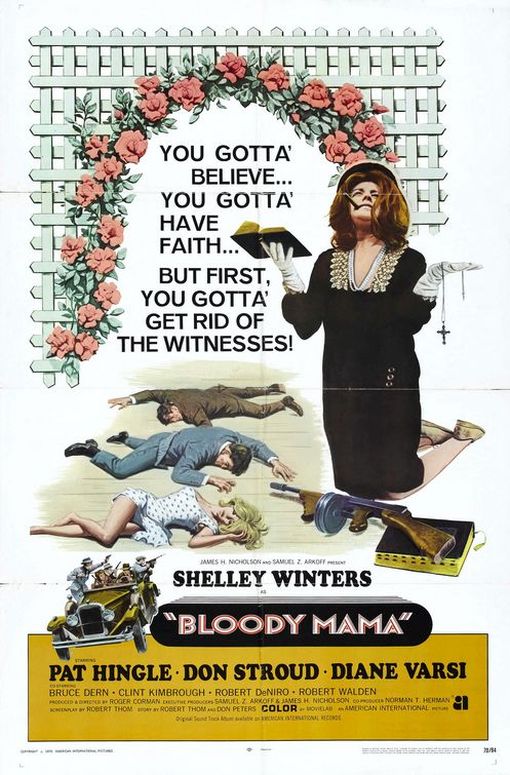 Year: 1970
Duration: 01:30:34
Directed by: Roger Corman
Actors: Shelley Winters, Don Stroud, Pat Hingle, Don Stroud
Language: English
Country: USA
Also known as: Átkozott mama
Description: While much of the sleaze in this Corman entry is off camera (and implied), there sure is a lot of it.  Rape, incest (father/daughter and mother/sons), heavy drug addiction, women sharing, jailhouse roughie love and a few gunfights thrown in here and there for good measure.  I guess that we have to be content sometimes with "R" rated sleaze, especially when it's from someone as cool as Corman.
This story revolves around the notorious criminal Ma Barker and her boys.  Unlike "Dillinger"(1973), many more liberties are taken with the facts here than vice versa, but Corman does have fun taking them.  We follow the family from one caper to the next and have some good times in between.  The consummate movie ending gun battle with authorities takes place, but ironically is pared down in comparison with what really happened.
Corman always did have an eye for future (and past) talents and this film is no exception to that fact.  Robert DeNiro, Robert Walden, Bruce Dern and Don Stroud (The Flesh Merchant) all have roles here (as do Pat Hingle and the wonderfully hammy Shelley Winters in the title role).  They all do a good job supporting Miss Winters, but this one's really her show.  Enjoy, folks.
Screenshots:
Download: