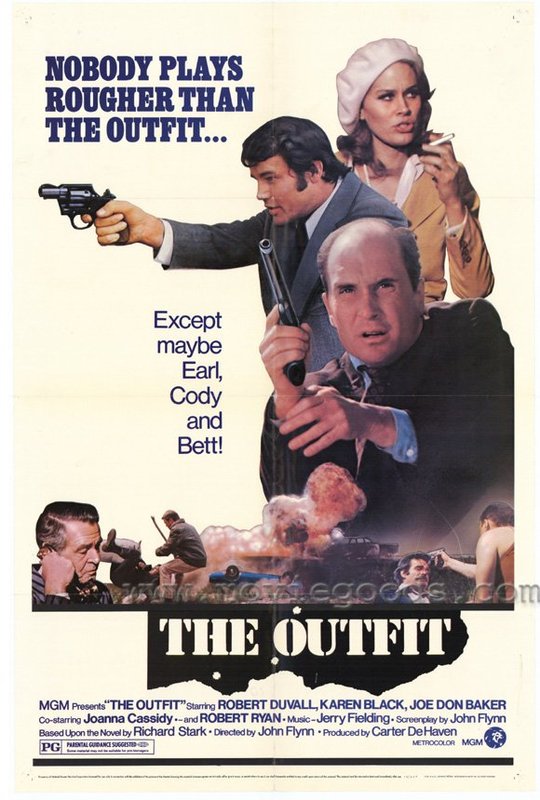 Year: 1973
Duration: 01:42:55
Directed by: John Flynn
Actors: Robert Duvall, Karen Black, Joe Don Baker
Language: English
Country: USA
Also known as:  Revolte in der Unterwelt, Hamnarna 
Description: 
JOHN FLYNN's 1973 CRIME/THRILLER, THE OUTFIT STARRING ROBERT DUVALL, JOE DON BAKER, KAREN BLACK, ROBERT RYAN, TIMOTHY CAREY, RICHARD JAECKEL, SHEREE NORTH, JOANNA CASSIDY, TOM REESE AND ELISHA COOK JR. AND BASED ON A DONALD E. WESTLAKE (under the pseudonym Richard Stark) NOVEL WHICH IS THE 3rd IN A SERIES FEATURING THE MAIN PARKER CHARACTER (Duvall).
EXCELLENT 70's CRIME/THRILLER WITH AN ALL-STAR CAST, GREAT DIALOGUE, AND GREAT PERFORMANCES. THE PACING AND ACTION ARE BOTH TIGHT AND DUVALL GIVES A GREAT PERFORMANCE (apparently Westlake liked his version of Parker the best).
THIS IS AN OVERLOOKED, ALMOST FORGOTTEN EARLY 70's GEM WHICH THANKFULLY HAS BEEN REMASTERED BY WARNER ARCHIVES. CHECK IT OUT!
Review: I like the works of Donald Westlake . They are ironic , gloomy and contain a lot of action .
But even more I like the work , written under the pseudonym " Richard Stark ." Westlake wanted to write more and earn , respectively , too. Under this alias earned him almost more famous than under his real name .
Of course, the main success falls on a series of silent and calculating thief Parker. This is not surprising . These stories are rough, tough and uncompromising. Parker always knows what he wants . And he takes it . It does not require other more than they can give . Parker tries to avoid casualties , but if you can not be without them , he does not hesitate . He did not look back. And he to anyone not tied too tightly.
In the film «The Outfit» Parker at different name. But it does not matter . He and the book is called by other names. By the way , the ones that were mentioned in them were later used in the film adaptations of directors . And only now Jason Staten brought before us under his real name Parker. Under what ?
Also Macklin ( Robert Duvall character and "local" Parker ) is killed by his brother. And he loves girl Beth.
But Donald Westlake believes that Parker , played by Duvall , is best suited for his character . I rather closer Gibson, but I agree with what Robert Duvall , too bad . He assembled, silent and quite uncompromising. He also quietly tolerate losses.
The film is full of action. Actively used cars and firearms. And in the end there is even a bomb .
Screenshots:
Download: