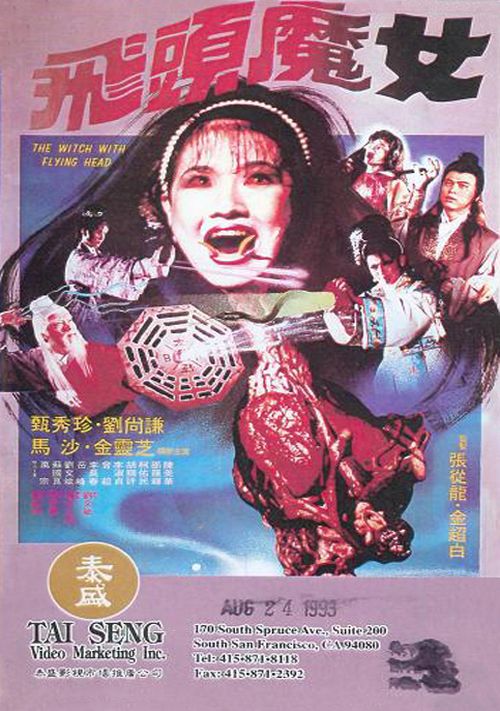 Year: 1977
Duration: 01:31:43
Directed by: Lian Sing Woo
Actors: Not available
Language: Cantonese (English subtitles)
Country: Hong Kong
Also known as: Fei taugh mo neuih, Fei tou mo nu
Description: A woman is praying for her sick father at a buddhist temple when out of nowhere a man, who is able to cast black magic, appears. The man takes a shine to the woman and casts a poison spell on her with the condition that he will only cure her if she marries him (the smooth bastard!). The woman refuses and escapes with her maids to the mountains. However, the spell also has another effect. At night, on the 15th of every month, the woman's head will detach itself from it's body and descend into the village looking for victims.
Review: A rare one from the Bubi Vaults. I own the original Tai Seng VHS to this beauty (pictured above) however, contrary to certain reports, I can confirm that the Tai Seng tape is unsubbed.
I picked up this rare subtitled print in a trade around 3 years ago. It's from a VHS source and there's a tracking line which runs along the bottom of the screen for the duration of the film. During the final 15-20 mins, the tracking line partially obscures the subs but with a bit of effort you'll still be able to make out what's going on. Subs are fine for the rest of the film. The print is quite dark and murky but of course the main draw here is the subs.
Cheung Yan Git was also a Taiwanese director who made the equally gory The Devil in 1981, as well as a number of other Taiwanese kung fu movies.
The film itself is an astonishing piece of low budget fantasy/horror. The entertaining, flying head effects are the film's main charm and kudos to the director for steering away from the lame comedy which plagued and ruined countless Asian horror films from the 80s . This one is played pretty straight and is all the better for it in my opinion.
Screenshots:
Download: