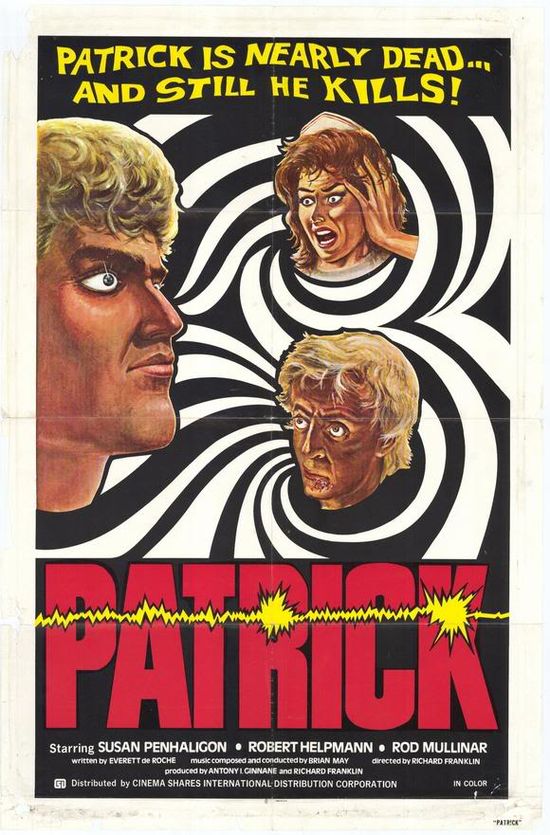 Year: 1978
Duration: 01:47:52
Directed by: Richard Franklin
Actors: Susan Penhaligon, Robert Helpmann, Rod Mullinar and Bruce Barry
Language: English
Country: Australia
Also known as: Coma, Patrick – Una experiencia alucinante, Patrick ja hänen kuudes aistinsa, Patrick's Höllentrip
Description: Filmed by director of Fantasm and Roadgames movies. A young man named Patrick, who killed his parents, for over three years is in the clinic of Dr. Roger. Three years he was still lying on the bed with open eyes, and, according to the doctor, the patient's brain in absolute sedated. He, as a plant – any reactions or reflexes. And some staff believe that it should to kill for humanitarian reasons. But new nurse, a young and pretty girl, Kathy, believes otherwise. Starting to care for Patrick, she suddenly realizes that between them establishes a connection, but soon her life begin to occur ridiculous, mysterious and strange events, gradually developed into nightmares…
Review: Richard Franklin creates a memorable horror film about Patrick. Patrick – a young man who lay helpless in the hospital. As a child he made a villainous act, and soon he was in the hospital and as a result of circumstances was "a vegetable." The director shows us a man who can not fully enjoy his power, who suffers from a number of Freudian complexes undergoing inspection and pointless experiments, according to the young and suffering from problems in his personal life nurses, Patrick has not only the mind but also the opportunity to influence the events, and the will to be moderate.
The film's success is due not so much as it is removed, how much of the original theme. Taken subsequently developing films that problem (Kill Bill vol.1, Talk to Her), directly or indirectly, include quotes from "Patrick". References to "Patrick" can be seen in the works of Brian De Palma. His "Rage" substantially overlaps thematically with "Patrick".
As an added bonus – a wonderful musical score by Brian May.
Screenshots:
Download: