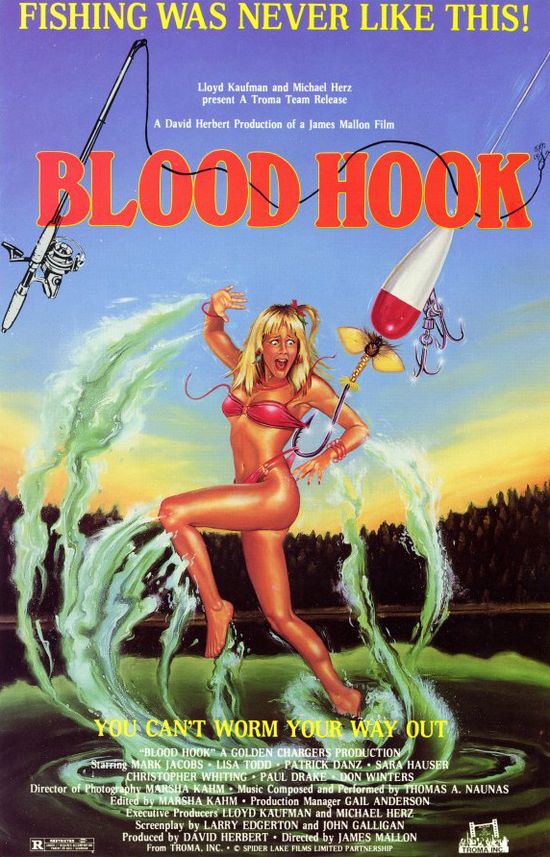 Year: 1986
Duration: 1:32:28
Directed by:  Jim Mallon (as James Mallon)
Actors:  Mark Jacobs, Lisa Jane Todd, Patrick Danz
Language: English
Country: USA
Also known as: Pêche Humaine, Garra sangrienta, Ihmiskalastaja, Veriloma hämähäkkijärvellä, Muskie Madness, Leichen an der Angel

Description: On vacation, five students decide to participate in the competition fishermen, unaware that here was got not an ordinary maniac…
On the annual competition for fishing fish, not only fish. Someone is trying to literally pick up on the hook of the contestants. The original maniac is making a bloody variety in fish. The company of young people, which came to rest in the house of the grandfather of one of the buddies gets in a chopper, arranged a maniac fisherman. No one escapes the bloody hook.
Low-budget slasher parody Jim Malone, known for funny TV series Mystery theater 3000 of the year (Mystery Science Theater 3000), a definite gem for fans of the genre. This film, made in the 80's and now looks great. Specific characters, natural environment, sacrificial young people — all there in this wonderful picture. With love to the genre, the author tells us the story of the unusual maniac, mocking at the movie slasher.
Of course, in the first place picture will delight film lovers of the category B. nevertheless, the film will leave many positive memories in the soul of any true connoisseur of cinema.
Screenshots
Download