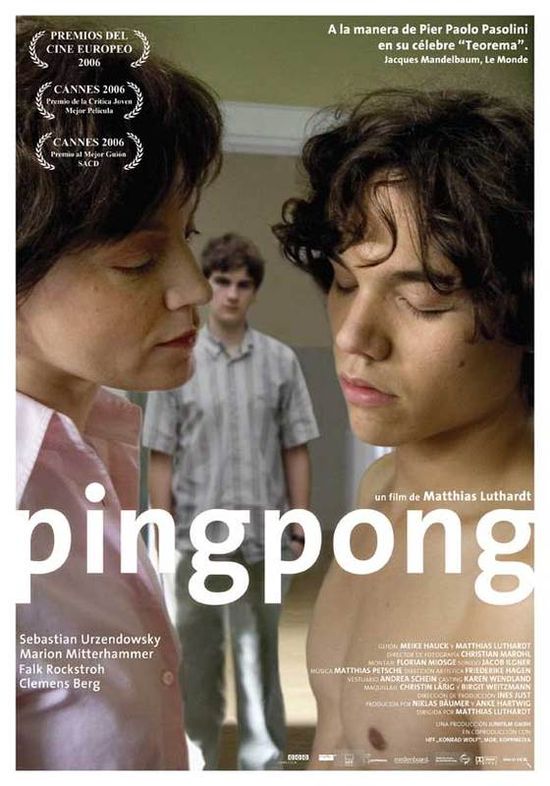 Year: 2006
Duration: 01:28:55
Directed by: Matthias Luthardt
Actors: Sebastian Urzendowsky, Marion Mitterhammer, Clemens Berg and Falk Rockstroh
Language: German
Country: Germany
Also known as:
Description of Pingpong movie: Sixteen-year Paul uninvited visites his relatives. He had just lost his father and is in search of the perfect family, that's why he imposes to a family that seems to him to be perfect. Aunt Anna first neglected him, but then brings Paul to her closer. The main character is too late to realize that completely falls under her control and is entirely dependent on her mercy. Paul's pain pushes him to a risky move …

16 -year-old Paul , who lost his father recently , unexpectedly comes to stay for a few days in the family of his uncle. Just the same is imposed . Visit the home is not happy one bit , but then you can not show it . Sami said: " Our house is always at your disposal ."
The idea of ​​"PingPong " is connected with the idea of ​​opening the problems of modern bourgeois German family through the invasion of something foreign to it . Something from a different social stratum of society and mentality . Of course , the difference between Paul and his family are not the depth of the abyss. In stiff , cold and closed his family, he stands out most of his inner strength and durability, direct connection to many things .
However, at the same time by Paul is the family , where everything is in its place – exemplary . It was there that he found at first, as it seems , the model that should be in every cell of society . But gradually , of course, comes only disappointment. The situation is exacerbated passion unfolding teenager to his own aunt , perhaps the central character of the whole picture . The heroine Marion Mitterhammer that is an imperious breed of women , to which extent are very attached , as hard and suffer all the surrounding men . But bad luck , Paul , with all its advantages , even in such a vamp is able to provoke an interest …
The film is in some ways similar to the so -called "Berlin School". It is not too tearful and not exaggerated , tells the real story without snot . This movie is not strong dramatization , and strong drama. Minimum locations , chamber shooting , no effects , no strain – a seemingly ordinary family life . But off the screen is not desirable. High quality and very revealing in this very low-budget ribbon , topped with two prizes at the Cannes Film Festival . Another proof of the well-known thesis – in order to pull off a good movie , sometimes you only need a good script and laborious casting.
Screenshots:
Download: