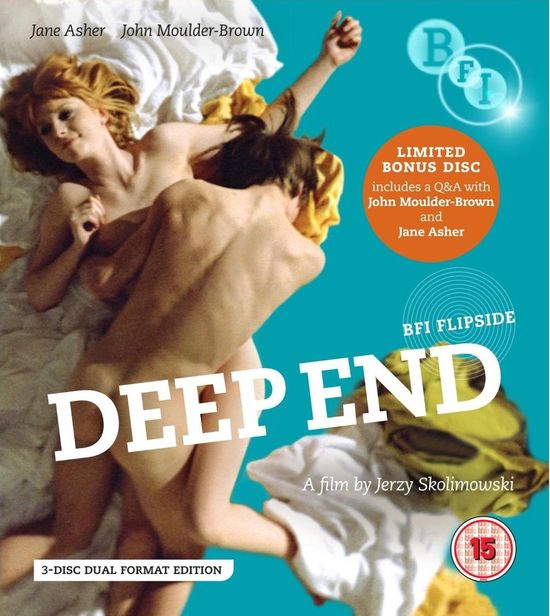 Year: 1970
Duration: 01:27:59
Directed by:  Jerzy Skolimowski
Actors:  Jane Asher, John Moulder-Brown and Karl Michael Vogler
Language: English
Country: West German, UK

Also known as: Na samym dnie, La ragazza del bagno pubblico, I proti epafi enos protari, Hyväilysi kosketus, Grand Bain, Gå på djupet, Badeanstalten, Ato Final, Adolescente Perversa
Description: After school, Mike finds a job as caretaker of a public swimming pool on the outskirts of London. There, he met with a spectacular red-haired Susan, whom men like very much. For the first time he saw her, Mike could no longer think of anyone else. Susan is much older than Mike, but he continued to pursue her attention, once rewarded for his patience. Upon learning that she had affair with a married lover – swimming instructor, Mike tries to interfere with their relationship, and it leads to a tragic end.
Review: Sue, like many in her position, dreams of a beautiful life, Mike dreams of Sue. It would seem that this, if Sue has sex with Mike, because for her it's just another, to the same fun and no non-binding affair? However, Well no, Sue does not really just does not see Mike, it it his own fears. Afraid of pristine purity of this love does not want the "taint" themselves possible encumbrances, if have to choose. And who is Mike, he has but not confirmed by material things of the senses?
Mike impulsive unshakeable reckless (second film title translation) in its quest to win the heart of Sue, refuses to take the life of London's "bottom" (although the picture was shot in Munich) in the form in which it actually exists: with all its filth, lust and vulgarity. Somehow it reminds movie heroes of the French "New Wave" (including the "new" new wave "in the person of character paintings Leo Carax). The outcome of the life of these "simpletons" guy out of this world known to all. In the film, the final E. Skolimowski also tragic, but the point is not set. The death does not sue anyone interested, it is important that to happen with Mike. And as any good with it can not happen, provided the audience 90 minutes is enough to define its position on the storytelling. Me in this regard, after the final credits have gone, tortured only one question: whether Mike will have time to get out of almost a water-filled basin, until he was struck by the current? It seems that for the main character of "depth" would have been better if he had died tragically here and now, in the arms of his beloved. Still, the idea of ​​dying young for the main characters in this picture is much more positive than for some time suffer from non-reciprocal love, and then waking up, continue to own a joyless existence.
For its time (early 70's) film, of course, the extraordinary, someone from the audience, then present themselves to the premiere, he may even shocking frankness some scenes. We just "got used" so it seems unlikely, but even though it's been nearly half a century since the film was shot, he looks as fresh. Fortunately, the story, seemingly banal, is told with a cinematic point of view, very skillfully, it concerns and wonderful interiors (which are at least those very shabby public tua …, ie bath!), And acting (especially Jane Asher as Susan), competently built plot and the individual parts. In general, in one breath …
Screenshots:
Download: