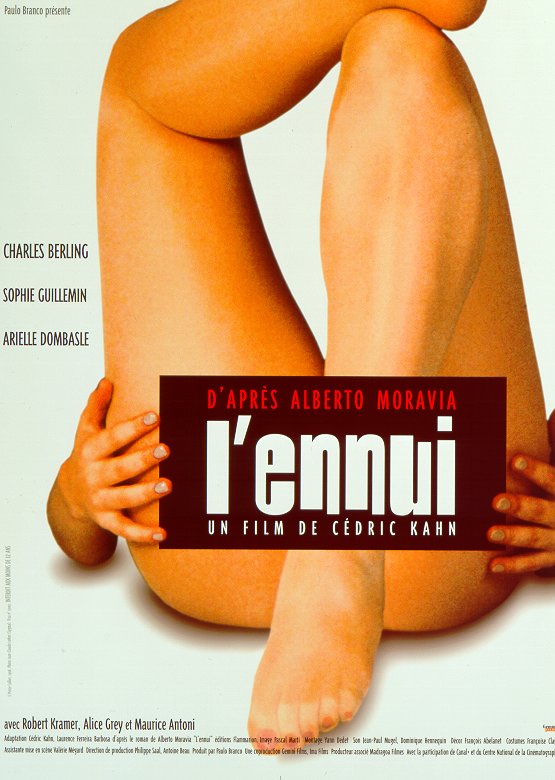 Year: 1998
Duration: 02:01:58
Directed by:  Cédric Kahn
Actors: Charles Berling, Sophie Guillemin and Arielle Dombasle
Language: French | English Subtitles

Country: France | Protugal

Also known as: Ania, Az unalom, Can Sikintisi, La noia, Liebe, Sex und Leidenschaft, Meine Heldin, Nuda, O Tédio, Tedio
Description:
Roman L'ennui Alberto Moravia already shown in 1963 the Italian Director Damiano Damiani (Rather Complicated Girl), but in those days, before the onset of the «sexual revolution» in life and on screen, intricate, erotic relationships between forty years of philosophical intellectual and seventeen-year-old former artist's model, not burdened with no thoughts, no feelings, were presented, of course, morally adapted. 35 years later, a young French Director Cedric Kahn, who appeared on the light through three years after the release of the film version of the Damiani, apparently, decided to take a belated revenge, reproducing the circumstances of the intimate connection between the main heroes of «Boredom» maximum meticulously and without any hesitation, that, in the end, even boring for two hours of screen actions, turning almost a bore.
Martin persistently and obsessively tries to find out what feels toward him cute girl-fat lady Cecilia, which comes every day on time and enthusiastically given him, and began to be jealous and stalk, with whom she meets and sleeps. But finding another «fancy man», even ready to cope with it, offers her marriage – and amazed that the girl refused, preferring not burdened in life nothing. «She doesn't love anyone,» admits in the hearts of the mother Cecilia, when she went for a week with a friend, not worrying that her father left to live for only three days.
In the interpretation of Cedric Kahn L'ennui appears some unimaginable symbiosis of Henry Miller… with Eric Romer, losing provocative simplicity of perception of the sex of the first author and the subtlety of the words, feelings and actions of each of the characters, which is characteristic of the second Creator. Hard to believe suddenly swept the philosopher insane passion for silly rap sheet, and in his insistence on his own humiliation in this «battle of the sexes». And, most importantly, there is no trace of any feeling of total «uncommunicativity of the senses» and a universal anguish that was correct Moravia (in parallel with the search in films of Michelangelo Antonioni) in economically and socially stabilized Italian society at the turn of the 50s and 60s.
Review: The film L'ennui – a wonderful example of a realistic relationship between the man and the intellectual high intelligence, prone to soul-and woman-primitive, not prone to anything other than "love" of men with basic instinct. But his tears storm of emotions, her own mind so low that it does not have any soul-searching at all. She does not understand it, and can not understand because of their emotional retardation. It is terribly surprising, and tries to wake her in at least some sense, but it simply does not understand. Dumb fuck – it's what she can do.
Screenshots:
Download: