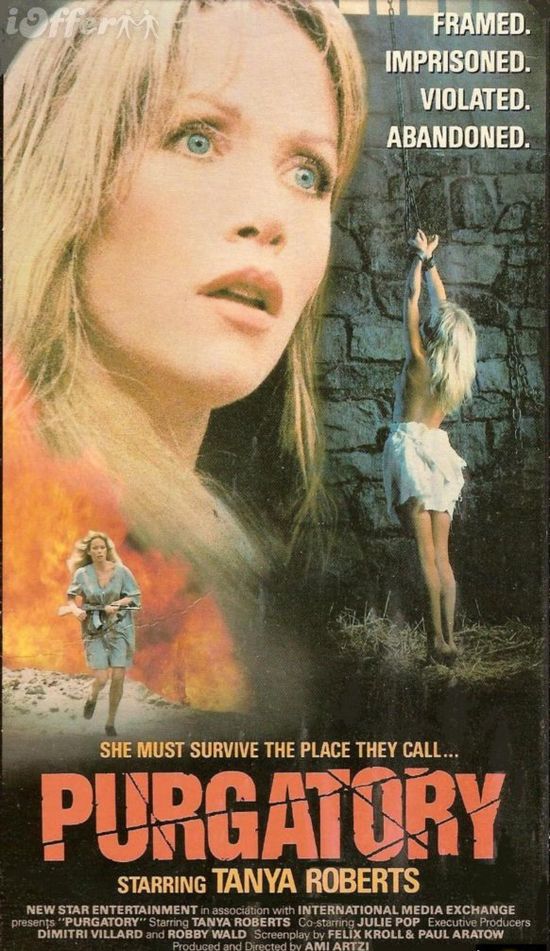 Year: 1988
Duration: 01:32:48
Directed by: Ami Artzi
Actors: Tanya Roberts, Julie Pop, Hal Orlandini, Rufus Stewart, Adrienne Pearce, David Sherwood, Clare Marshall
Language: English
Country: South Africa
Also known as: Purgatory: The Naked Cell, Soggiorno all'inferno, Spindelns nät, Rangaistusvanki, Czysciec
Description: Tanya Roberts (Charlie's Angels, A View To Kill, Beastmaster, That 70's Show…) stars in this W.I.P. flick. Yes it's cheesy, Yes it's bad, but hey it's got Tanya Roberts in it!
Accused in a crime they did not commit, Carly and her friend Melanie are in prison, dubbed "Purgatory" where the girls are forced to work as prostitutes.
The story of 2 peace corporation employees vacationing somewhere in South Africa and making the mistake of picking up a hitchhiker in their jeep. The mistake was that the hitchhiker appeared to be a drug runner, so their car was stopped at a military checkpoint. While the guy was trying to make a run but failed, two women, Carly and Melanie, were getting arrested without being a chance to plea that they had nothing to do with the drugs. The women are sent to a prison where their case is fed to the dogs and they find themselves receiving a life sentence in a female prison. That turned out to be a place where Carly and Melanie are sexually molested by prison guards. Moreover, they are treated as outcasts by the other prison inmates, and have no other way out than to use their "sexuality". One of them is trying to seduce the Warden of the female prison to earn them freedom. The highlights of the movie are the mother biting the bullet and the bust out with lots of squibs and good explosions. The film features Tanya Roberts from "Charlie's Angels" series and "Sheena, Queen Of The Jungle". Here you will be pleased to see her in the "hosing down" sessions in the prison and the countless sex scenes between her character and the Warden.
Screenshots:
Download: