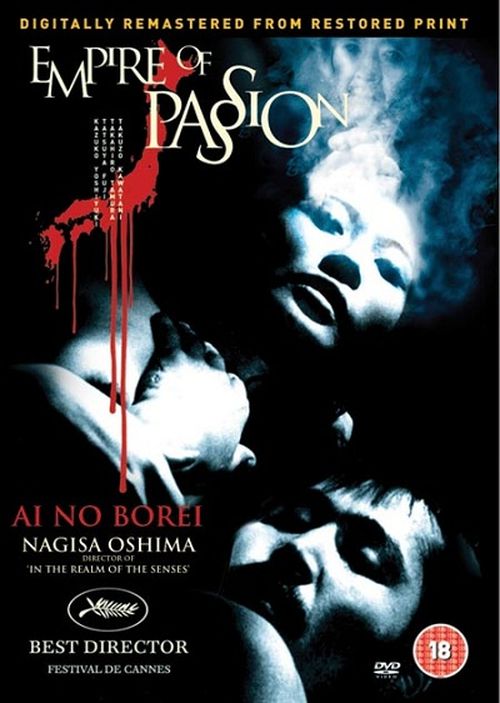 Year: 1978
Duration: 01:40:38
Directed by: Nagisa Ôshima 
Actors: Tatsuya Fuji, Kazuko Yoshiyuki, Takahiro Tamura and Takuzô Kawatani 
Language: Japanese (English subs)

Country: Japan | France
Also known as: Ai no borei, In the Realm of Passion, Phantom Love, The Ghost of Love

Description: The story began in 1895 in a tiny village near Tokyo. Seki, our heroine fell in love with another man and this has led to an overwhelming sense of tragedy. Passion, blinded lovers, snedemyh desire, passion as an apotheosis of love pangs caused the murder of her husband Seki. But his hatred and desire for revenge brought him back to the spirit of the world on the other side of life.
The film "Empire of Passion" in 1978 filmed the famous and iconic Japanese director Nagisa Oshima and this tape on the genre is horror parable with elements of drama.

Review: This film I watched the first time in the summer of 2008 in a Moscow theater "World of Art." We went with a girl, very smart one. The same can not be said of the rest of the audience, which occasionally was laughing at the intimate scenes of the main characters. Relic of the school, I guess. And just recently downloaded, and had a great time watching it again.
The film touches. The plot is flowing slowly, slowly. Explaining every scene, every action of heroes. Great acting is – they just believe!
Nagisa Ôshima made a lot of good movie of pinly violence genre, like Black Rose Ascension, which was made in 1975. And you can also find a lot of films with Tatsuya Fuji, like Stray Cat Rock: Machine Animal

Personally for me, the very ideological component of the film is fresh, despite the fact that the old as time. The problem of infidelity, legends all-consuming passion, but as the development of sin – the murder, all the same is true today. "All the secret sooner or later become clear" – the film also emphasizes that wisdom.
The Japanese know how to shoot philosophic films, and this movie is a good proof.
Screenshots:
Download: